submitted by ESCA
ESCA's Summer Educational Conference offers programs designed to give you the opportunity to learn the latest trends in our industry, network with your peers, make new contacts and have an impact on the future of the exhibition industry. ESCA's Summer Educational Conference offers:
Industry specific educational opportunities
Interactive panels, exhibits and social events
Nationally recognized speakers
Networking opportunities in a relaxing environment
We hope you enjoyed the 2022 Summer Educational Conference & 2022 Winter Awards Celebration & Reception. Were you smiling when the camera came around? Click here to take a look at the education, the excitement and the fun we all had.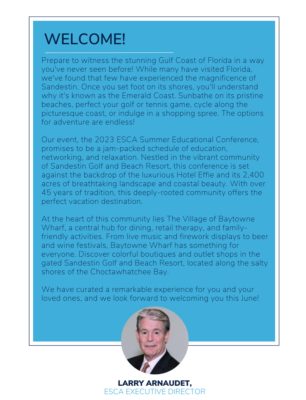 Join us on June 25 – 28, 2023 at Hotel Effie in beautiful Sandestin, FL. The vibrant community of Sandestin Golf and Beach Resort and its 2,400 acres of lush landscape and coastal beauty is the perfect backdrop for the southern luxury of Hotel Effie. With more than 45 years of tradition, the deeply rooted community has so much to offer as the picture-perfect vacation destination. Hotel Effie is a new and exciting part of it all. And so are you.
People have been called to Northwest Florida's Emerald Coast for decades. A coastline of pristine white sand beaches carved from quartz carried from the Appalachian mountains 20,000 years ago, the Emerald coast is a forest by the sea, flanked by towering oaks and pines.
Hotel Effie itself is found on the banks of the Choctawhatchee Bay, nestled inside the gates of the world-famous Sandestin Golf and Beach Resort and adjacent to the bustling Village at Baytowne Wharf. The area is serviced by the Destin-Fort Walton Beach Airport (VPS), Northwest Florida Beaches International Airport (ECP), and Pensacola International Airport (PNS).
Introducing ESCA: Your Partner in the Exhibition Industry
Established in 1970, the Exhibition Services & Contractors Association (ESCA) serves as a unified voice for service contractors and their partners in the exhibition industry. With a strong network of over 185 members across the United States and Canada, ESCA collaborates with members and other industry organizations to promote the exhibition sector and advocate for our members' interests.
What ESCA Represents:
A dedicated association for companies providing services and materials for the exhibition, meeting, and event industries.
A hub for information exchange between members and all entities within the expansive exhibition, meeting, and event sectors.
A go-to source for leading general service contractors and suppliers.
A provider of information and support in today's ever-changing business environment.
An advocate for service providers on critical industry issues, including developing and distributing official "position papers."
A trusted resource for other professional organizations in the industry.
A guiding force for establishing best practices and ethical standards.
Mission Statement: ESCA is committed to advancing the exhibition, meeting, and special event industries. Through education, information exchange, and shared professionalism among members and their customers, ESCA fosters collaboration across all aspects of the exhibition industry.
Strategic Vision: The ESCA Strategic Plan stems from our Board of Directors' ambition to establish a sustainable competitive edge for the organization. This strategy aims to enhance organizational alignment and optimize the utilization of ESCA's resources (time, money, and effort). As a dynamic working plan, it is designed to adapt and evolve in response to the changing needs of our members and the shifting competitive landscape of the exhibition industry.
A Glimpse into ESCA's History: Since its inception in 1970, ESCA has been the voice of service contractors and their partners in the exhibition industry. Today, with more than 175 member companies in the United States, Canada, and the United Kingdom, ESCA maintains strategic alliances with IAEE, IAVM, SISO, EDPA, ECA, and CEIR to drive the exhibition industry forward collectively.