International Association of Exhibitions and Events (IAEE) selected the recipients of its 20 Under 30 awards program, which affords young professional exhibition organizers, who may not be supported by their companies, the opportunity to attend Expo! Expo!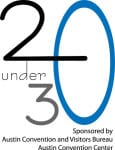 "We are proud to encourage and aid young professionals with this incredible opportunity," said David DuBois, president, IAEE. "The education and networking opportunities at Expo! Expo! are invaluable to professionals at any level but are especially beneficial to professionals in the early stages of their career."
IAEE's Annual Meeting & Exhibition, Expo! Expo! will be held Dec. 10-12 in Houston, Texas. The 20 Under 30 program provides education for professional growth in the exhibitions and events industry and helps program participants become better, more productive employees. It is sponsored by the Austin Convention and Visitors Bureau and Austin Convention Center.
In addition to receiving a complimentary full registration to Expo! Expo! and lodging for three nights, honorees will be recognized throughout the annual meeting and formally at the meeting's General Session on Dec. 11.
The following individuals were selected as this year's 20 Under 30:
Linda Abdel-Haq, Coordinator, SmithBucklin Corporation
Carrie Abernathy, CMP, CEM, Director of Education, Training & Events, Practice Greenhealth
Tessa Ayala, Exposition Sales Support Coordinator, InfoComm
David Berrios, Exhibit Coordinator, Corcoran Expositions
Colleen Boyden, Project Manager, Empire Force Events
Amanda Graham, Digital Marketing Strategist for ad:tech North America, dmg::events USA
Jessica Ko, Events Coordinator, National Catholic Educational Association
Jennifer Liu, Senior Manager, Tradeshows Acquisition, American Express OPEN
Adam Martin, Meeting Planner, American Public Transportation Association
Kyle McMillan, Trade Show Planner, Produce Marketing Association
John Morris, Coordinator, Communications & Member Relations, ASME International Gas Turbine Institute
Sarah O'Hanley, Manager, Exhibits, Sponsorships & Advertising, NAILBA
Sam Owen, Sales Manager, dmg::Events USA | ad:tech
Molly Plummer, Exhibits Sales & Services Coordinator, Association for Convenience & Fuel Retailing
Jonathan Politte, Account Executive, National Association of Broadcasters
Meaghan Rhame, Administrative Assistant for Membership  & Events, TCEA
Kaylee Van Nort, Conference Experience Specialist, MRA Services
Alleeshia Williams, Coordinator, Meetings and Business Partnerships, Institute of Food Technologists
Tamara Zengerle, Trade Show and Database Coordinator, Texas Association of Builders
IAEE is the largest association of the exhibitions and events industry in the world, with a membership of show organizers, exhibitors and exhibition suppliers.