A new director of meetings and events with a great deal of broadcast media experience has been hired by 4Productions.


Eileen Prose will lead the firm's event-execution for each and every client while expanding upon its service offerings.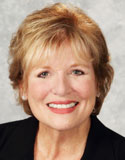 "Eileen brings 20 years of Fortune 500 integrated media program management and event-productions skills to our organization," said Dave McCormack, general manager, 4Productions. "She will focus on accelerating our already rapid rate of growth in the corporate-event arena. Eileen's ability to deliver dynamic, creative solutions and flawless technology to her long-standing clients will be a tremendous asset to our growth."
In addition to her outstanding success creating and managing integrated marketing and media programs for many Fortune 500 companies, Prose has had a remarkable broadcasting career. As the 13-year host of Good Day, a daily live program, Prose won many Emmys for her on-air skills. She has hosted numerous high-profile national programs including two Lifetime Cable programs: Working Mother, for which she won the cable ACE award, and Your Baby and Child with Dr. Penelope Leach.
"I have worked with Eileen for over 15 years. Her sincere dedication to her clients and their success is impressive. Her creative energy and technical knowledge will contribute immeasurably to the growth of our Corporate Events Division," said Brian McNamara, director of operations, 4Productions.
Prose was second runner-up and the talent award winner in the Miss America Pageant. The Juvenile Diabetes Association and the Girl Scouts of America named her woman of the year, and Prose was a national spokesperson for United Cerebral Palsy. Prose has won many honors for her public service and continues to serve on the boards of several charitable foundations.