Above: the Oracle plane on display on the trade show floor
Silicon Valley giant Oracle rolled out the red carpet for attendees of Oracle OpenWorld 2016, an annual convention that has become one of the biggest events in tech.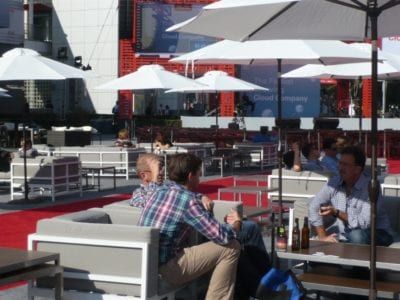 The show brought 60,000 attendees to the Moscone Center in San Francisco Sept. 18-20. It featured more than 150 sessions across 13 industries, and a live performance by Grammy award winning artists Sting and Gwen Stefani at nearby AT&T Park.
Outside the convention center, Howard Street (at right) was transformed into Oracle Cloud Plaza, complete with a grand entrance, plush carpet, outdoor café, and plenty of seating for impromptu networking sessions.
Over 1,000 vendors exhibited, attracting attention with games, gift cards, cocktails, and the standard trade show swag.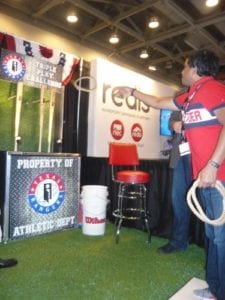 interRel Consulting, an Oracle partner, brought a baseball themed booth (at left) designed and built by ShaBang Exhibits in Richardson, Texas. The newly expanded booth featured ring toss on one side and Spin and Win on the other.
The concept created more foot traffic than the trade show team expected given the location, off to the side of the exhibit hall, said Danielle White, director of marketing for interRel. But barely a day into the conference, they were running low on prizes and had a steady stream of visitors.
"Our company is all about going outside the box and not going the traditional route," said White, who showed off photos of their other booths, a steampunk theme and interRel Land, which features lots of candy and a Zoltar fortune telling machine.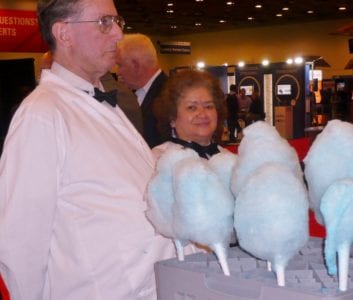 Huron Consulting Group, a global management consulting group, also relied on a low tech concept – cotton candy (photo right).
Staff were worried the noise from the cotton candy machine would deter leads, but it drew people towards the booth, said Karolyn Leonard, Director of Talent Acquisition for Huron.
"People have come back for seconds," she said.
Anything that draws people to the booth is a good thing, said Debbie Hamilton, marketing events analyst for Huron. When people walk away with cotton candy, other people ask, "Where did you get that?"
Sticking with the cloud theme, Huron also offered cloud shaped mints.
Below left, a circus theme from RingMaster software. Below right: the trade show team from MemSQL, a database platform for real-time analytics, attracted attention with high tech goods.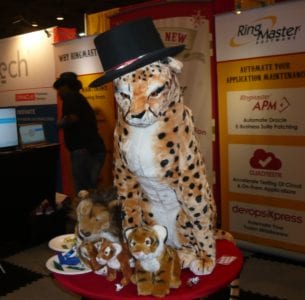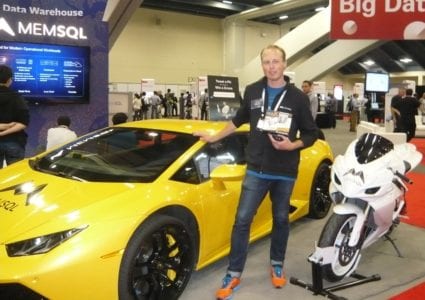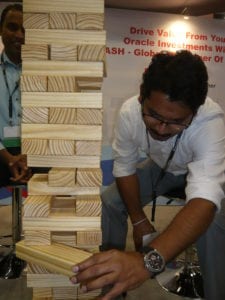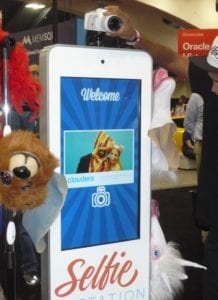 Photo right, Cloudera offered a selfie station with masks, accessories, and a free print out of the photo. Photo far right, YASH Technologies lured potential leads with giant Jenga and giant Kerplunk.
SmartyStreets, a company that verifies addresses for shipping, helped potential customers relieve stress with free massages by massage artists from Urban Oasis in San Francisco.
"We've basically been nonstop since 11:30 am," said Sya Warfield, owner of Urban Oasis. "Everyone has been really nice."