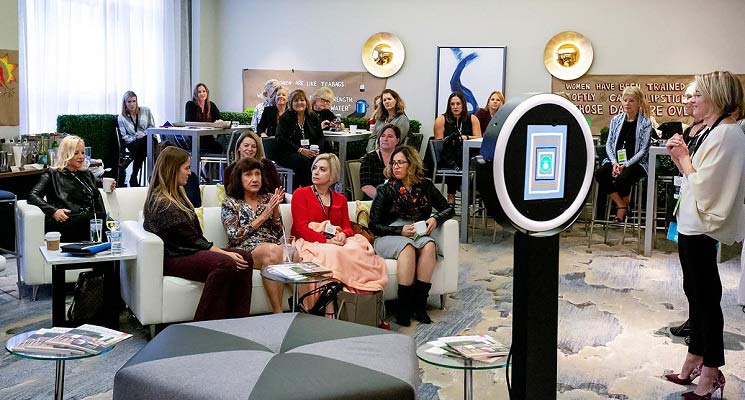 The EDPA Southeast Chapter is presenting a lunch and learn networking event, "Seven Things Most Marketers in the Exhibit Industry Get Wrong," at 11:30 a.m. (EST) on Thursday, Feb. 20, at BeMatrix, 4476 Park Drive, Norcross, Ga. Lisa Sinicki, content strategist and...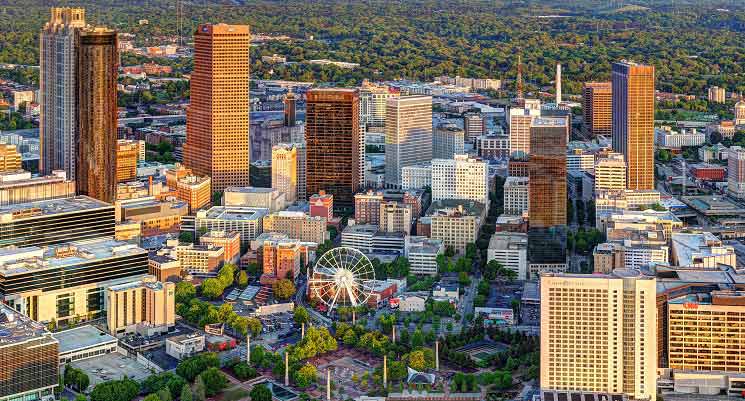 Atlanta Convention & Visitors Bureau announced record-breaking hotel occupancy in 2019 in the city of Atlanta at 74 percent, according to data from Smith Travel Research. This marks the sixth straight year occupancy remained more than 70 percent. City of Atlanta...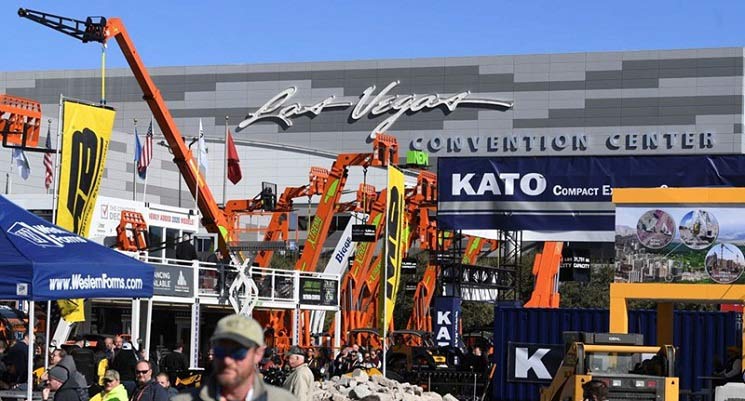 Las Vegas continued to prove itself a leading destination for both business and leisure tourism, welcoming a record 6.6 million meeting or convention attendees in 2019 beating the previous record set in 2017 and a 2.3 percent increase over 2018, according to research...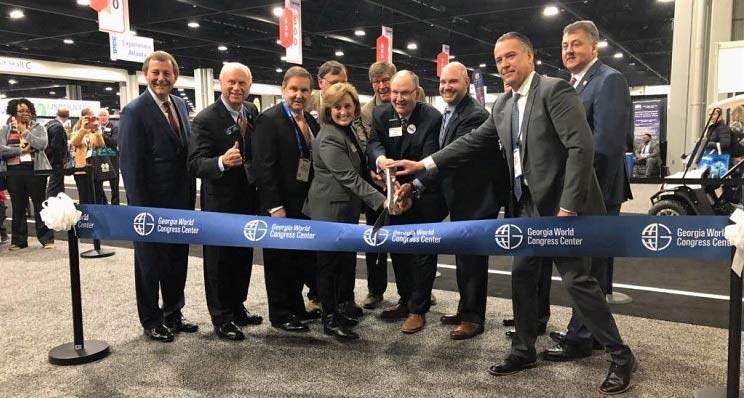 (Pictured: State Sen. Butch Miller, center, leads a ribbon-cutting ceremony for the Georgia World Congress Center expansion) Georgia World Congress Center Authority announced completion of its new Exhibit Hall BC project, a 100,000-square-foot expansion creating more...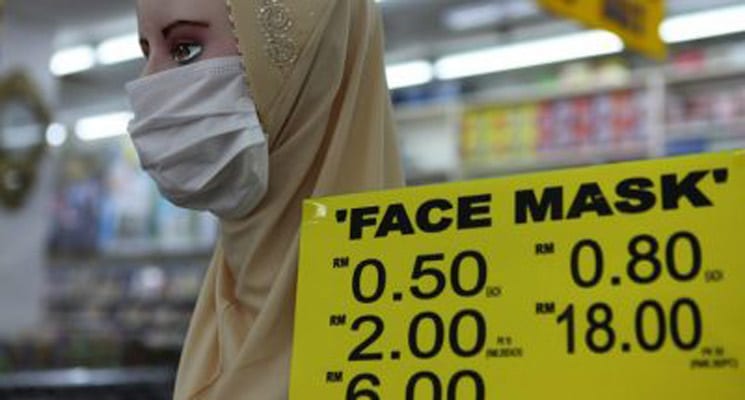 The International Association of Exhibitions and Events has been closely monitoring the effect of the coronavirus outbreak and its impact on exhibitions and events. "IAEE is keeping a close eye on the developments of coronavirus and how it affects the industry as well...
by Jim Obermeyer Time for a bit of a rant: I've been thinking a lot lately about the value of relationships in our industry—building and maintaining strong client relationships to build a business. More and more we are faced with responding to RFPs where we never get...
read more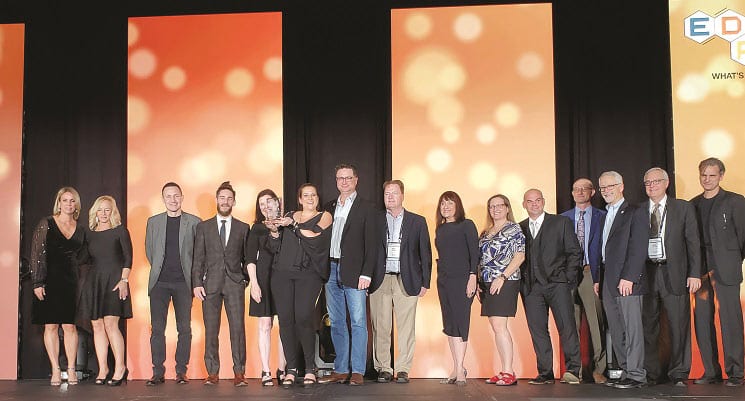 (Pictured above: EDPA Midwest Chapter accepting Chapter of the Year award at EDPA ACCESS 2019) by H. K. Wilson EDPA chapters across the country are celebrating new leadership and opportunities for growth in 2020. At EDPA ACCESS 2019, Dec. 4-6 in Tucson, Ariz., Amy...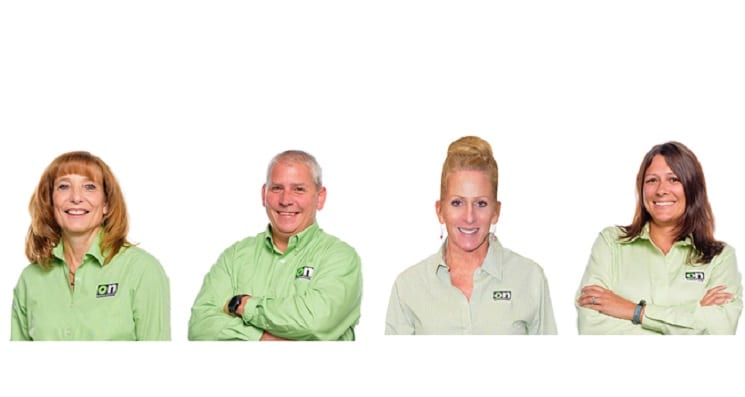 (Pictured L-R: Joyce Mollure, Jeff Popovich, Conchetta Lehman & Allison Addotta) On Location, a nationwide provider of labor and management services for exhibits, events and environments, is proud to promote two members of its account executive team and two...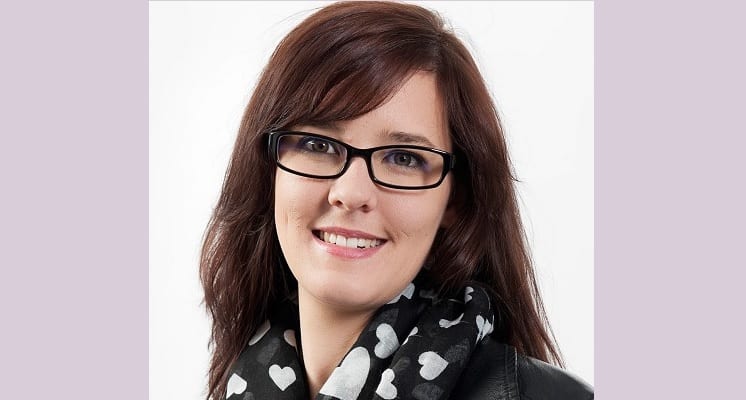 stevensE3 has appointed Zoe van Niekerk as sales and marketing coordinator. She has nine years of sales and marketing experience within the exhibition and event environments having worked with a media agency, event organizers and an exhibition stand builder in South...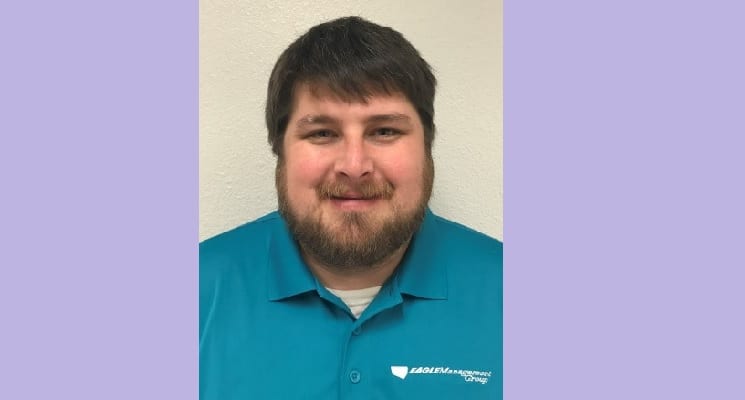 Eagle Management Group brought on Noah Ploch-Jones, as their Northern California assistant city manager on Feb. 6. In 2011, Ploch-Jones began his career in the tradeshow industry working for a large custom exhibit house in the Bay area. Ploch-Jones' main focus was...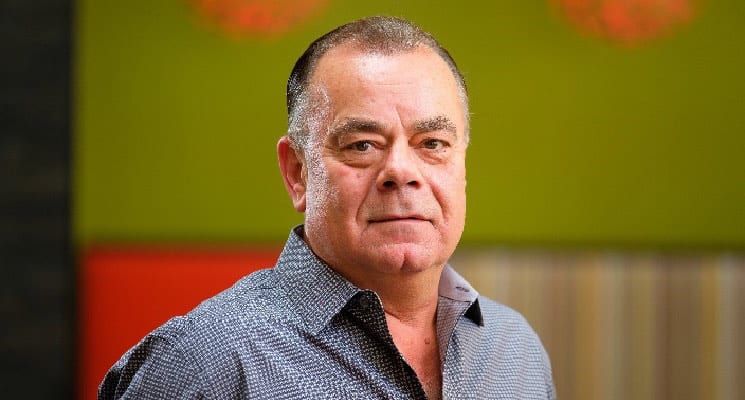 Sho-Link Incorporated, a premier installation and dismantle service company, announces the retirement of Scott Ciepley, Chicago city manager. Longtime industry leader, Ciepley left Sho-Link at the end of January and Stephan Mahoney was named the new Chicago city...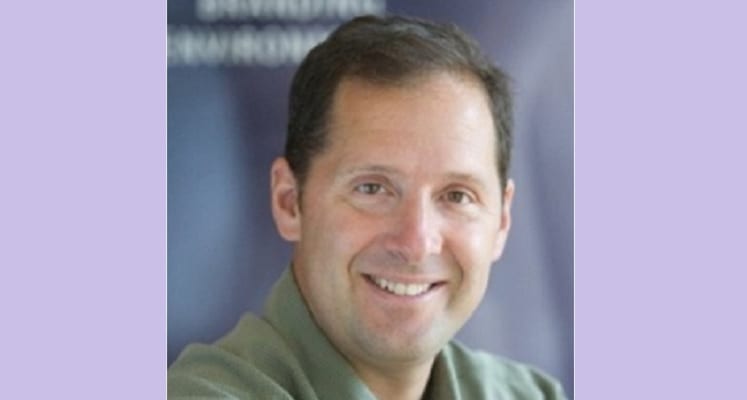 Global experiential marketing agency Impact XM has welcomed Michael Grivas to lead its Canadian and D.C.-based sales team. As vice president of client services, Grivas will apply his legacy of industry experience in business strategy, sales activities, operations,...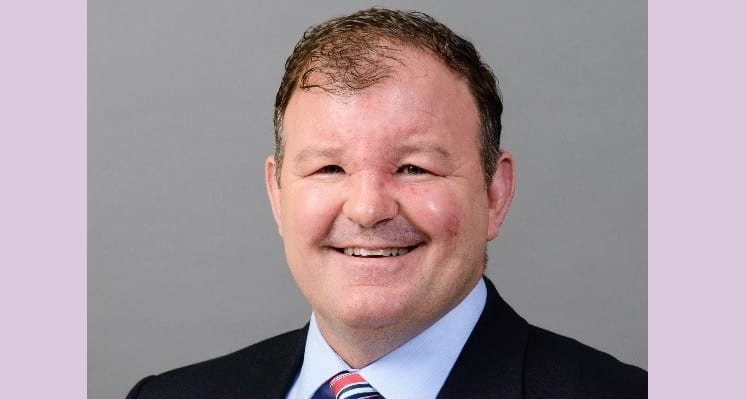 Global Shop Solutions is proud to celebrate 15 years of extraordinary service to ERP software customers under the leadership of Financial & Operations Service Manager Greg Bean. "No one will outwork Greg Bean," says Vice President of Operations Mike Melzer. "He...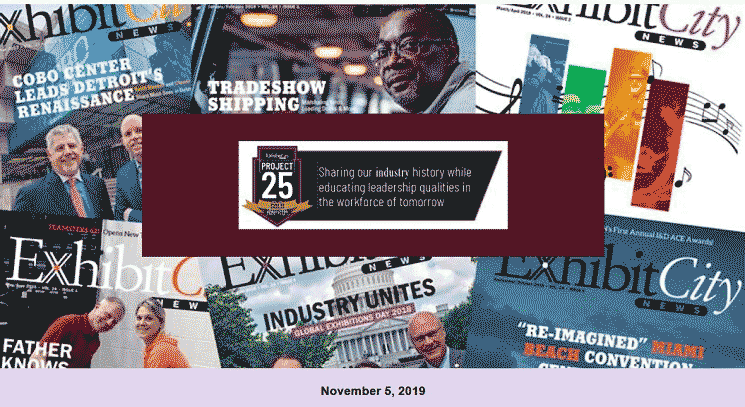 Click on the link to read ECN's First Monthly Project 25 E-Newsletter or to sign-up for ECN's free weekly e-newsblasts and the monthly Project 25 e-newsletters, subscribe at https://exhibitcitynews.com/newsblasts/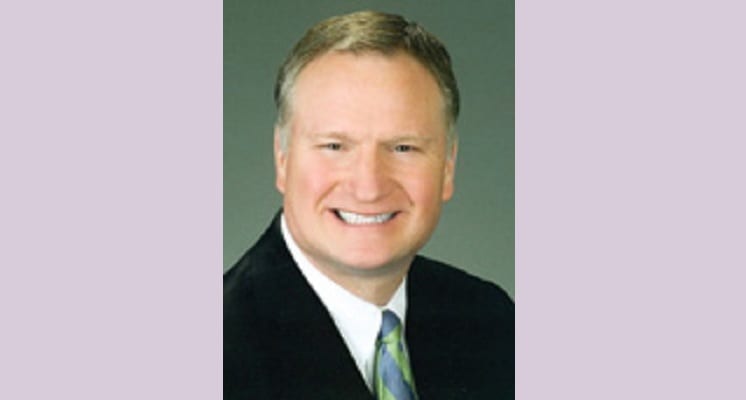 by H. K. Wilson In 1981, Mark Zimmerman was a young college grad on a quest for opportunity and adventure. He left his home in Michigan, where the recent recession had battered the auto industry and local economy, and sought his fortune in Atlanta, Georgia. He soon...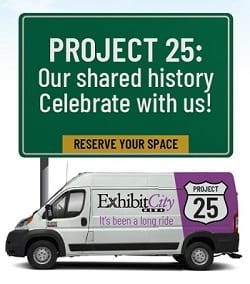 Celebrate 25 years of Exhibit City News! Call (702) 309-8023 for more info about sponsoring our silver anniversary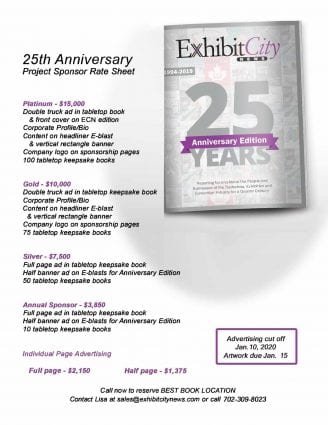 25th Anniversary Project Sponsor Rate Sheet Platinum - $15,000 Double truck ad in tabletop book & front cover on ECN edition Corporate Profile/Bio Content on headliner E-blast & vertical rectangle banner Company logo on sponsorship pages 100 tabletop keepsake...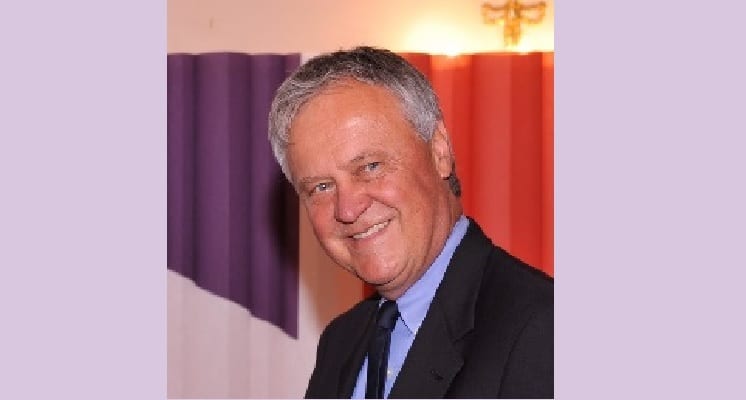 by Jeanne Brei For nearly 50 years, Larry Kulchawik has been a force in the tradeshow industry. He has worked for three of the leading exhibit companies in the U.S. in management and sales with a focus on international trade show marketing, has served on the boards of...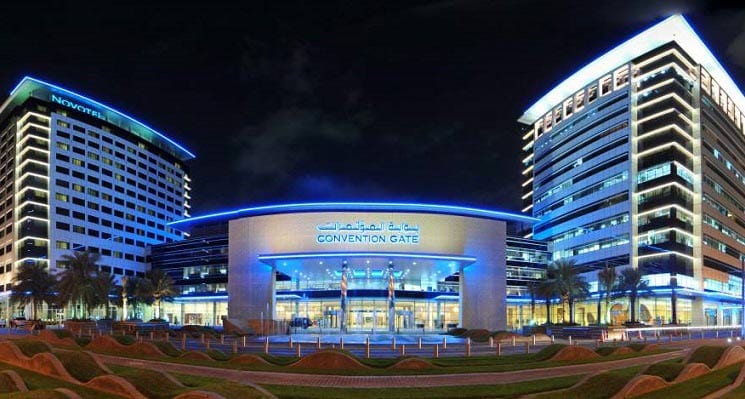 Dubai Future District, a new district dedicated to the new economy, is taking shape, connecting Dubai World Trade Centre, home to the city's main convention and exhibition center, with key financial and business zones Emirates Towers and Dubai International Financial...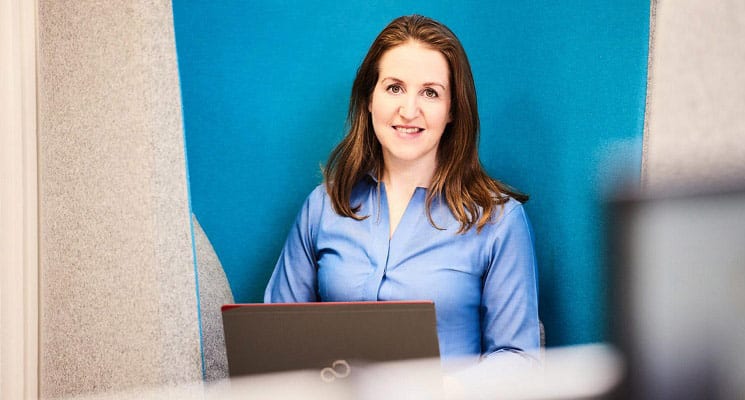 In what has become a yearly tradition, IMEX Group starts the New Year with an interview with CEO Carina Bauer (pictured above) about the choice and the thinking behind this year's IMEX Talking Point: NATURE. Q: Carina, can you put this idea of a Talking Point in...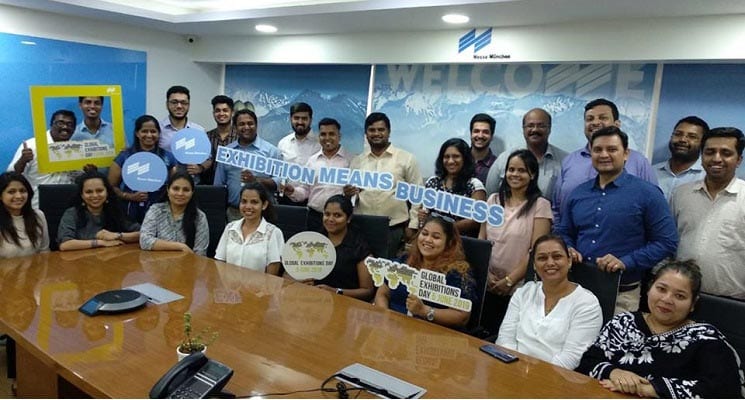 Global Exhibitions Day, a worldwide celebration of the exhibitions and events industry, is organized by UFI and held annually on the first Wednesday of June, which falls on June 3 this year. UFI, the Global Association of the Exhibition Industry, facilitates Global...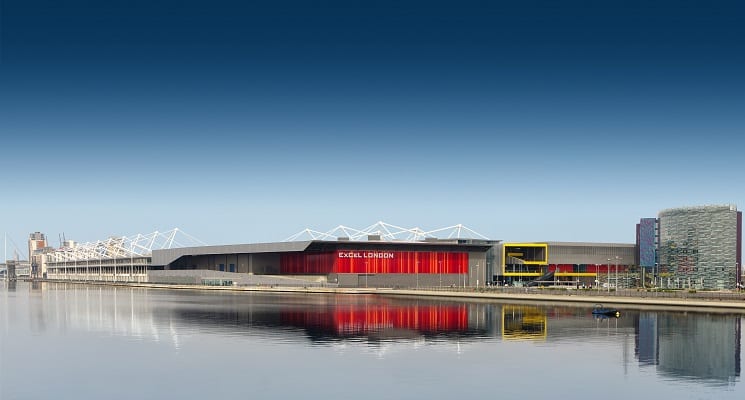 The Association of British Professional Conference Organizers has continued its recent run of new member success with the addition of ExCeL London as a Preferred Partner. By joining ABPCO as a preferred partner, ExCeL London has placed itself alongside other key UK...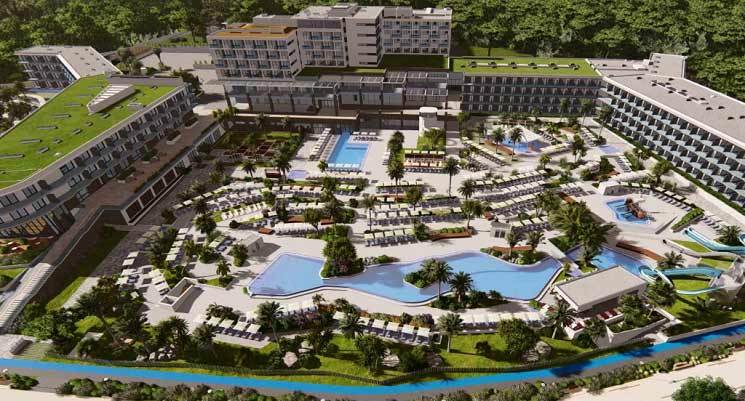 Valamar Riviera, Croatia's leading tourism company, announced on Jan. 30 that they have started construction on Pical Convention Centre, which will be the largest hotel event center in Istria. The center will be able to host up to 1,200 people, deal with every type of...
"Momentum Management continues to be impressed with the measures that Exhibit City News takes in their efforts to provide a respected and credible platform for our industry.
Momentum Management
"Exhibit City News provides excellent information on current trends, and is a great resource for the most up to date happenings in our ever-changing industry. I read it cover to cover!"
Leanne Dagavarian
Trade Show & Special Event Manager, Hologic
"We as an industry thank the Exhibit City News staff for providing us all with the print and online platforms necessary for honoring our up and coming industry leaders (40 Under 40) of both today and tomorrow. Keep carrying those torches and fighting the good fight… Job well done!"
Ray C. Rogowicz
CEO and President at EXHIBITTRADER.COM, Inc