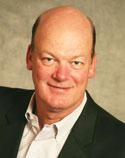 Ben Shanley has been tapped as the incoming chairman of the board of directors for the Atlanta Convention & Visitors Bureau (ACVB) for 2011. Shanley is the vice president of distributor development for Atlanta-based Coca-Cola foodservice and on-premise division.


Shanley is no stranger to the hospitality industry. He has served on ACVB's board of directors since 2003, and has been instrumental in creating ACVB's Hospitality Business Network, an initiative that provides business networking opportunities while supporting the ACVB Arts Foundation and the Atlanta Community Food bank. He has also served on the executive committee for NYC & Company's board since 2002.
"Ben's insight and perspective on the challenges of a competitive meetings and tourism market will help steer us through 2011," said William Pate, president and CEO of ACVB.
"What I bring to the table is more operational," Shanley said. "A successful organization is not only based on the diversity of skills of individuals, it's the people on the board. A strong board brings strong results and my goal is to continue the momentum."
The chairman of the ACVB is elected by the board of directors following a nomination by the organization's executive committee.