Aluvision, Europe's leading exhibit system supplier, opened its first sales office in Atlanta.
"Our Atlanta office will allow us to react even faster to all requests and orders from existing and potential U.S. customers. It will also give us the opportunity to provide closer technical support and organize local product trainings on [a] regular basis," said Stephan De Mulder, senior account director, Aluvision Inc.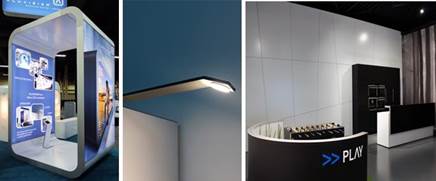 Given the growing demand and success of the Aluvision product in the North American market, opening an office in the U.S. was the next logical step, according to company officials.
"Aluvision is very committed to the U.S. exhibit industry since we have experienced that our modular frame concepts offer very efficient solutions that meet the specific needs of the American tradeshow industry," added De Mulder. "Costs for drayage and labor are being reduced to a minimum by using our versatile, lightweight and easy-to-set-up construction elements."
Another advantage of the Aluvision range is its hidden aspect. Not seeing any aluminum profile structures gives a high-end, custom look to all designs. Moreover, the modularity and reusability turn it into a solution for any exhibit company's rental program.
Founded in 2003, Aluvision offers building solutions based on lightweight, aluminum frames: straight or curved hard panel walls, fabric and backlit fabric structures, hanging signs, freestanding displays and more.
For more information, visit www.aluvision.com or call +1 (646) 736 7317.