by H.K. Wilson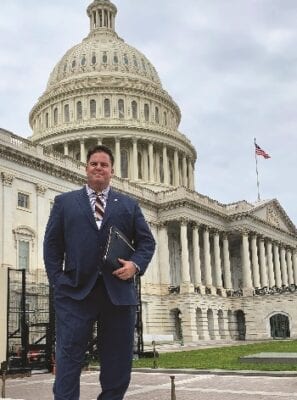 Chris Griffin (pictured right) is an advocacy warrior, and as a member of the EDPA executive board, he is spearheading the organization's advocacy initiative. Griffin is also an industry entrepreneur who has made a lifetime investment in tradeshows. As owner of Crew XP, Griffin maintains exhibit fabrication facilities in Orlando and Las Vegas, as well as builder sites in 10 more key convention cities across the country. That is, until the industry was, in his words, "vaporized last March." He recently shuttered his Las Vegas facility and moved equipment and supplies into storage in hope of better days to come. Once an employer of more than 100 people, he maintains a skeleton crew with the help of Paycheck Protection Program funds while giving 60-plus hours a week of his own time to championing the cause of the meetings and exhibitions industry.
Advocacy is a new word in tradeshow parlance. Never before has there been a cooperative effort to craft a universal message and (gasp!), hire professionals to lobby for the industry's interests—until now.
"The idea of industry advocacy took on a whole new meaning in 2020," Griffin says. "When business stopped, we threw ourselves into government affairs and advocacy with the other associations in our ecosystem. The silver lining is how well all the associations are working together right now to save our industry."
Last year, a coalition of industry partners organized the Go LIVE Together campaign to begin getting the message to Capitol Hill that tradeshows are crucial to American business and deserving of government support. Go LIVE has now evolved into a formal entity, the Exhibitions and Conferences Alliance. Griffin emphasized that the ECA is not another association, rather, it is a coalition of associations—SISO, IAEE, CEIR, EACA, ESCA, IAVM and Destinations International—all working together in the common cause of industry advocacy. Although each segment of the industry has its own agenda, Griffin says the magic is that for the first time, they're "all rowing in the same direction."
It hasn't been all smooth sailing, however. Along the way, it became apparent that the industry was not skilled in statecraft. There was no unified message, advocacy efforts were scattershot and some opportunities to bend the ears of elected officials were bungled.
"For the first time, the EDPA decided to hire professionals," Griffin says. "The EDPA Foundation has built an endowment that we normally use to help families. It is now contributing to our advocacy cause to help employees get those jobs back."
EDPA engaged Cassidy & Associates, a leading bipartisan government relations firm based in Washington, D.C. Griffin explains, "There's an expression in the service side of the industry, 'When you work on a show, it's not what you know or who you know, but what you know about who you know.' In the case of Cassidy, some people had worked with them before and had personal experience with the firm. The advocacy effort for us was really started by Tim Heffernan and T3 Expo. He worked in government affairs before, and T3 was funding the advocacy effort by themselves. We moved in as the contract holder, and through private donations and our association, we were able to carry the cost of that."
The Mission
The EDPA has clearly defined its advocacy mission: To create an ongoing advocacy culture within the EDPA community, members and affiliates supporting the experiential, exhibit and event industry. The broader Exhibitions & Conferences Alliance will do this by delivering consistent and compelling messages about the industry's positive impact on the U.S. and global economies.
The advocacy focus in 2021 will focus on four key areas: Industry Government Affairs, Association Alignment & Relations, Workforce Development and Exhibitor Advocacy.
By creating a structure for ongoing advocacy, the ECA will seek to move away from temporary, stop-gap federal programs to help the industry create a more permanent infrastructure with a reliable funding source. It will continue to assess the legislative proposals of the new administration and House and Senate majorities; identify legislative and administrative measures that provide assistance to the events industry; guide members in advocating directly for assistance; assess the impact of advocacy efforts; and share intelligence and updates with members.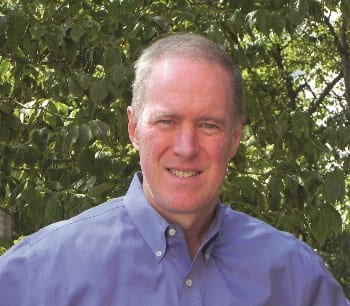 Kevin Binger is senior vice president at Cassidy & Associates and a key representative for the EDPA. During an advocacy webinar hosted by EDPA Texas on April 15, he pointed out that a crisis is not the ideal time to start a government relationship. "Our view is if organizations are going to be successful, it's good to have some of those relationships ahead of time with people who know and understand you."
He and his firm, however, have jumped in mid-crisis to begin relationship building and educating officials about the tradeshow industry. "As we have talked to multiple House and Senate offices across several states, it has become clear that Congress isn't very familiar with our industry. Before we started, Congressional aides had no idea there was this large network of small businesses that make industry events possible. Thanks to the efforts of a lot of people delivering the same message, Congress is learning that this industry employs more than 2 million people, and it is still feeling a lot of pain. Nothing is quite as effective for a Congressional office as hearing directly from a small business person in their home district, and that's the power of this advocacy effort."
There are many issues competing for attention in Washington—immigration, China policy and a $15 minimum wage, to name a few. There are also many industries competing for pandemic relief funds, many of which have been well-represented in Washington for decades. The industry has some catching up to do in terms of educating elected officials about its $101 billion annual contribution to the U.S. GDP through the production of 9,500 events per year.
"About 95 percent of participants are small businesses," Griffin says. "Many go to one event a year and write the lion's share of their business there. Every tradeshow is its own small business incubator. And for every dollar spent on a tradeshow exhibit, there is another spent on flights, hotels, food and other items. This industry collects money and distributes it throughout the economy. I don't know of another that amplifies the overall economy like ours does."
The EDPA and its partners will continue to advocate for a legislative or regulatory proposal that will help small businesses in the tradeshow/industry-conference sector bridge the gap between the end of the PPP's second-draw loans and the easing of government restrictions that will allow industry events to resume. Possible avenues include:
Small business programs identified in the Biden-Harris $1.9 trillion American Rescue Plan
Congressional proposals drafted in response to the Biden-Harris plan
An expansion of the Shuttered Venue Operator Grant Program (Save our Stages)
An updated version of the Restart Act
A longer-term "Recovery Sector Business" loan program, as outlined in the 2020 Rubio-Collins bill
Administrative actions through the Agriculture Department, Treasury Department or other federal agency
"I believe we have the potential to be a group that helps write policy in the future and not have to be reactionary for our future causes," says Matthew Little (pictured right), president of the EDPA Texas chapter.
Your Mission If You Choose to Accept It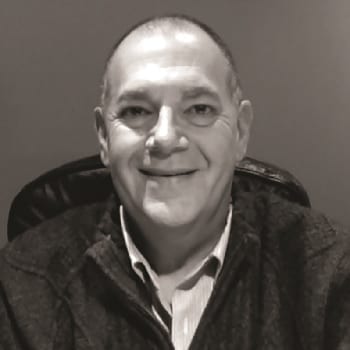 According to Rob Cohen (pictured left), vice president of Display Supply & Lighting, Inc., the industry must maintain an ongoing and unified message. "Continuity is a critical aspect to advocacy. An industry's voice must sing the same song to get heard loud and clear. This includes continuity in content and messaging as well as being a continuous voice. Advocacy is not an activity that our industry can afford to jump in and out of. We are an important part of the economy and must be a recognized voice at all times going forward."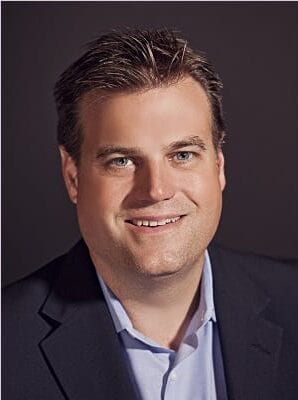 EDPA Executive Director Dasher Lowe (pictured right) adds, "As we move forward, we must continue our unified work and not let the foot off the gas. We have all learned that we can no longer be the quiet giant. We need to continue our efforts to bring the awareness and recognition the industry needs and deserves. We need the world to understand how meetings, events and exhibits drive the global economy. If our industry is strong, we can provide a critical piece to the success of the global economy."
While leaving frontline engagement to the professionals, what can advocacy warriors at home do? Griffin outlines a few simple action items: "Support your associations and re-up your membership. It's never been more important. Reach out to your local press and tell them about the industry. Tell the story of family-owned businesses and how they're struggling or what they've pivoted to. Blog about it. And stay in touch with your local elected officials. When you see them doing something right, tell them. That's an important part of building relationships."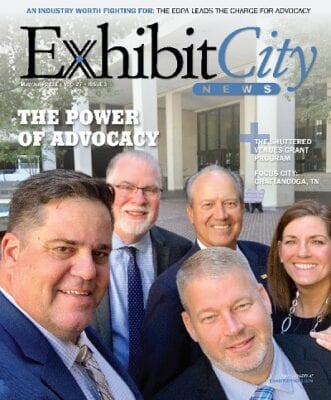 The tradeshow industry has seen three significant disruptions in the last 20 years: 9/11, The Great Recession and what Griffin is calling "The Great Disruption of 2020." This time around, he says, we don't know how long the runway to recovery will be. "It took four years to recover from 9/11 and 10 years to recover from the recession. Tradeshows have been denied federal recovery dollars. This is the year we've decided to stop being invisible. We need to be recognized for who we are and our value to the U.S. economy."
The human condition is such that people want to meet face-to-face. Companies are beginning to measure lost sales of the past year and truly quantify the value in-person tradeshows bring to their businesses.
Griffin sums it up well when he says, "This is absolutely an industry worth fighting for."
This story originally appeared in the May/June 2021 issue of Exhibit City News, p. 24. For original layout, visit https://issuu.com/exhibitcitynews/docs/ecn_may-june_2021