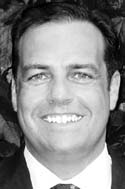 Astound, a global exhibit design and fabrication firm with capabilities across North America, Europe, Asia and the Middle East, has announced the recent addition of a new vice president of global sales.

With over 19 years of international experience in face-to-face marketing, Steve Riches, most recently worked as vice president, business development – international at GES (formerly Exhibitgroup/Giltspur). Riches brings a wealth of industry experience that will help build upon the growth that Astound has enjoyed in recent years.
"I have known Dale Morgan, Astound's president since before he started the company, when we both had clients at the SEMICON Show in Korea," said Riches. "I've watched him grow the business over the past decade and wanted to be a part of a fast growing entrepreneurial company."
Prior to GES, Steve held the positions of vice president, global services with DisplayWorks (formerly MICE North America). He's a graduate of Pepperdine University's Graziadio School of Business and Management, holds dual US/EU citizenship and has written and spoken fluency in English, French and Spanish.
"I'm really very excited to have Steve join the Astound team," says Dale Morgan, president of Astound. "I've seen him take on some very large global programs with impressive results and, although he's earned the reputation of being one of the industries top executives, he's always been very humble about his accomplishments. He's also an all around great guy and culturally could not be a better fit for our company."