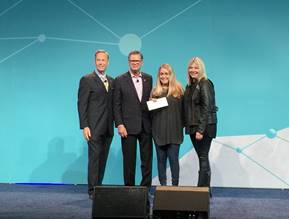 At right, HAAM representatives accepting their check from PCMA leaders on Tuesday January 10, during the Convening Leadership Conference in Austin, Tex.
The Austin Convention and Visitors Bureau and the Professional Convention Management Association Education Foundation together raised $25,000 benefiting Health Alliance for Austin Musicians. Party with a Purpose, one of two charitable events during the 2017 Convening Leaders Conference, raised funds to the charity whose purpose is to provide access to affordable health care for Austin's low income, uninsured working musicians.
For close to a decade, Austin CVB has supplied the live music for the Convening Leadership Conferences event, PWAP.  We are pleased to partner with Austin City Limits Live at The Moody Theater on hosting the largest PWAP event to date.
The Austin CVB is the official destination marketing and sales organization for the City of Austin. An accredited member of the Destination Marketing Association International, the Austin CVB is charged with marketing Austin nationally and internationally as a premier business and leisure destination, thus enriching our community's overall quality of life. In 2015 the greater Austin MSA welcomed 24.1 million visitors who contributed to $7 billion in economic impact and 124,000 jobs.
The role of the Education Foundation of the PCMA is to support the mission of PCMA through fundraising and grant giving focused on scholarships, education and research that will advance the meetings and conventions industry. Established in 1985, the Foundation fuels advancement, nurtures professional development and shapes tomorrow's meeting and convention leaders. Learn more at pcma.org/foundation.