submitted by Jillian Fafard, BlueHive 
BlueHive Exhibits has been successfully servicing the trade show and event needs of both national and international companies for 18 years from its 160,000 square foot space in Worcester, Massachusetts. Under its second generation of ownership with Caitlyn Correia as President, BlueHive is making moves that will undoubtedly impact not just its own growth but those of the businesses it supports for decades to come. Most recently, BlueHive is thrilled to announce the opening of its brand-new, 30,000 square foot facility in Las Vegas, Nevada.
Located at 7660 Dean Martin Drive, #202-203 in Las Vegas, in proximity to major airports as well as some of the area's most popular event convention spaces, BlueHive's new full-service fabrication and storage facility is perfectly situated to service its West Coast clients and any brands exhibiting at events in Las Vegas or the surrounding areas. Where other exhibit houses may have partners in the area to build, store and manage client assets, BlueHive will be able to guarantee its clients the same consistently high-quality service and attention to detail from its own dedicated facility. What's more, with rising shipping costs and the continued difficulty of sourcing raw materials often used in exhibit construction, this second facility will help BlueHive clients to save money on transportation and materials of their event assets. "For now, we're focusing on fabrication and storage, and then the plan is to build out our other services of this location to mirror what we offer here at HQ in the East Coast," says Jillian Fafard, Creative Director, Marketing & Experiential.
As the third generation of a professional trade show family, Correia has been in the industry all her life, and her sights have been set on the future of growth for the trade show industry at large since her first day as president of BlueHive. She lives by the family mantra; employees come first, vendors come second, and clients come third—because with the best people, and the best vendor relationships, clients will be given the finest service. Every move Correia has made has been to better BlueHive employees and its partner relationships, and to provide more services and support to BlueHive clients big and small. In so doing, she has been integral to supporting other businesses and service providers across the trade show and events industry and has created job opportunities for Las Vegas residents with the staffing that will need to be filled for this full-service facility to operate.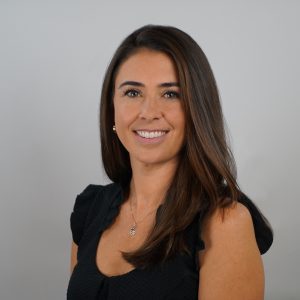 "My passion for travel and taking in new experiences has instilled a true sense of appreciation for the events world, and it has always been my dream to see BlueHive expand its reach into the West Coast market with its own facility," says Correia. "We are streamlining our operations and logistics management for servicing clients in this area. We are helping companies to save money and increase their bottom line by attending West Coast shows that drive their own sales and marketing initiatives. We are creating jobs for industry, and we're offering a work-life culture that allows people to flourish and grow professionally. I really couldn't "bee" prouder or more humbled by this latest move for BlueHive and cannot wait to see what the future brings for us all."
The BlueHive Las Vegas facility officially opened on August 15, 2023. BlueHive will maintain its partner relationships while operating from this facility. As a privately-owned and financially strong exhibit design and build firm, with CEO Paul Hanlon readying Correia to take full control of the company, there's certainly a legacy in the making for BlueHive.  "We currently have operations and administrative in place, will be hiring for fabrication and warehouse/inventory first eventually we will hire for account services and creative in this location," says Fafard. 
About BlueHive
Formed in January 2005, BlueHive is an exhibit, events and interiors design firm focused on revamping and revitalizing the exhibit world. Headquartered in a combined 160,000 sq. ft. facility in Worcester, Mass., with a second 30,000 square foot facility in Las Vegas and a satellite office in Long Island, N.Y.  For more information, go to BlueHive 
Additional Source Li Jackson, Editor, Exhibit City News