BlueHive Strategic Environments, an exhibit design firm, expanded its CAD team by one new employee.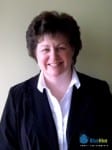 As the new CAD engineer/detailer, Piper Enman will be based out of the Worcester, Mass. office.
"We are pleased to have her join us," said Paul Hanlon, CEO, BlueHive. "Piper brings a wealth of exhibit industry experience to the table and is a great addition to our existing CAD team,"
Enman resides in North Grafton, Mass. She can be contacted at penman@blue-hive.com.