As visitors to The Marvel Experience join their favorite superheroes on a quest to save the planet, they're walking, jumping and playing on event flooring provided by Brumark, the Total Flooring Solutions provider.
The Marvel Experience, a one-of-a-kind hyper-reality event produced by Hero Ventures, kicked off in Phoenix in December 2014 to much anticipation. Brumark is the official event flooring provider for this cutting-edge event traveling across the country this year.
Through the use of augmented reality, next-generation technology, advanced computer animation, multi-person gaming, a 4-D motion ride, and a 360-degree, 3-D stereoscopic projection dome, visitors to can enter the world of Marvel with superheroes like Hulk, Spider-Man and Iron Man. The event covers three acres, and Brumark provided event flooring for the walkways and large domes.
Brumark's quick-deploy outdoor event flooring was chosen for the event. It is easy to transport, fast to install, and strong enough to support the foot traffic, structures, technology and other elements involved in the event.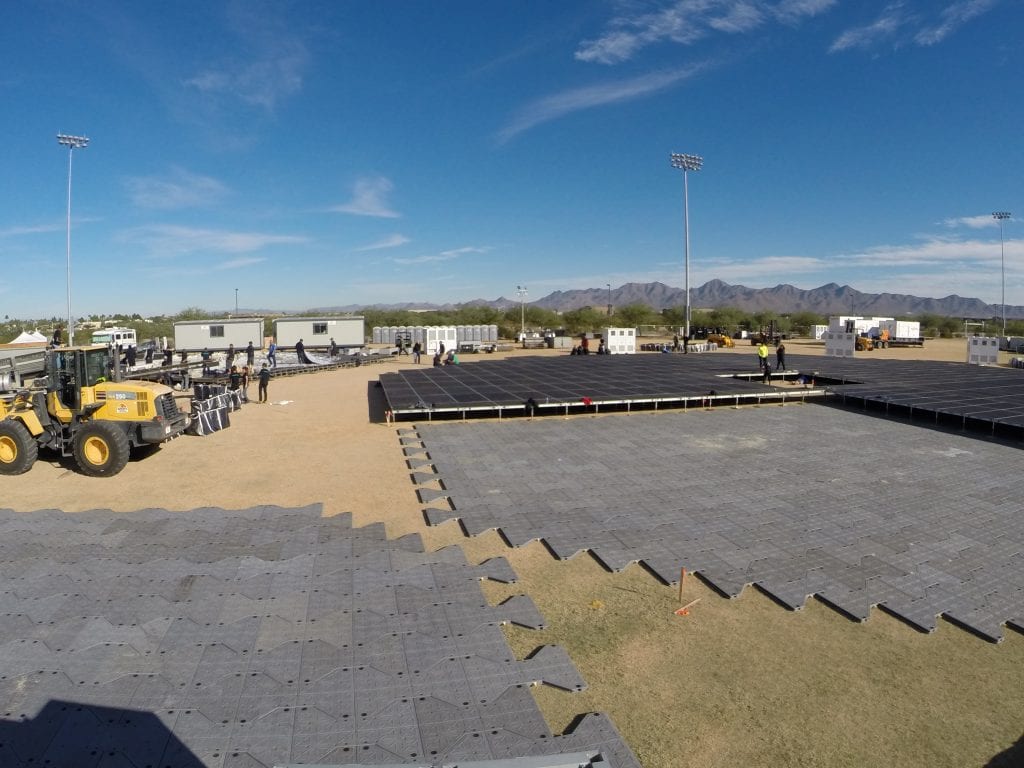 "This was an incredibly exciting and tremendously fun challenge," said Dave Walens, president, Brumark. "As The Marvel Experience moves from city to city, the flooring needs to be installed in just one day. Our durable outdoor event flooring was the perfect solution."
"Supporting one of the largest traveling events of its kind involves tremendous attention to detail," noted James Zacharias, event division director, Brumark. "From the start the project required working closely with Ignition, the Marvel event production team and our internal event team to ensure its success. As this event travels to many cities for over a year, the Brumark team will be providing continued onsite support from venue to venue."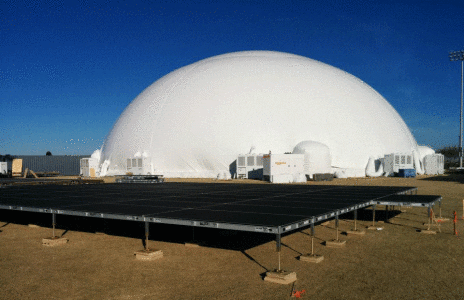 "The Marvel Experience is truly a unique and massive cutting-edge show for all ages, and the Brumark team is honored to be a part of it. To make a commitment and deliver on your promises is the most rewarding part of our roles," added Jeremy Friedman, senior account manager, Brumark. "I've been privileged to see the event evolve from ideation over two years ago to something I'm proud to take my family to. We are extremely humbled and thankful to be part of Hero Venture's incredibly talented team. Just as important is the tour crew that makes things happen at each and every venue, with changes with each set. Three acres of custom staging to deploy in a day is a marvel in itself."
The Marvel Experience premiered in Scottsdale, Ariz., in December and is in Dallas from Jan. 15-31 before heading to Del Mar, Calif.
Attendees at ExhibitorLIVE! in Las Vegas in March can see video and learn more about Brumark's work on this project by coming by Booth 1721. Photos of the event and the flooring installation are also available at www.facebook.com/brumark.
For more information, visit www.themarvelexperience.com.