by Bob McGlincy, The Tradeshow Times
On Nov. 11, the Center for Exhibition Industry Research VP of Research Nancy Drapeau and Dr. Allen Shaw, president & chief economist, Global Economics Consulting Associates, Inc., discussed recent survey results regarding COVID, the Delta variant, and the status of 2021 U.S. B2B exhibitions with a look to 2022. Several points included:
Organizers, buyers and sellers are experiencing successful shows.
Herd immunity should be reached in the first half of 2022, which will make it easier to attend tradeshows.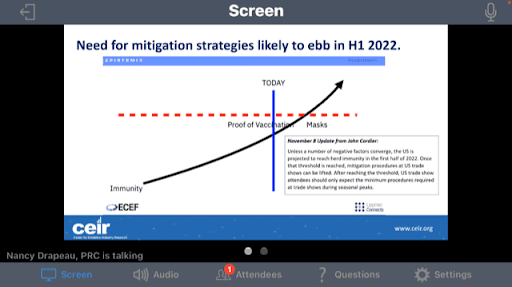 Business travelers are going to shows (both driving and flying).
On average, more than 90 percent of exhibitors and attendees surveyed plan to be at shows.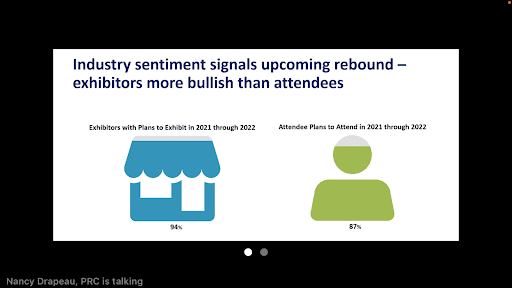 2021 is rebounding dramatically compared with 2020; 2022 numbers will be close to 2019; and 2023 is forecasted to exceed 2019 numbers.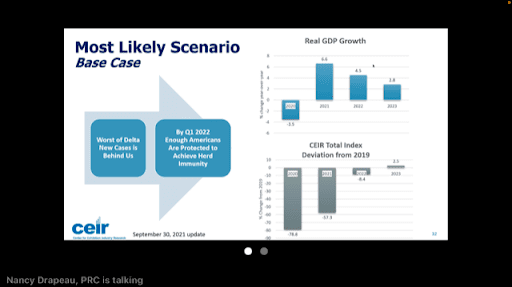 Not unexpectedly, 2021 is a major improvement over 2020.  The CEIR Total Index for 2021 is projected to be almost double that of 2020 (42.7 in 2021 versus 21.2 in 2020, compared to a base of 100 in 2019).
All graphics above are from the CEIR seminar.  A webinar recording and an entire slide deck of "U.S. COVID-19 Impact & Recovery Tracker Survey Status of 2021 U.S. B2B Exhibitions" can be accessed at Webinars – Center for Exhibition Industry Research (ceir.org).  

Bob McGlincy is director, business management at Willwork Global Event Services. Willwork creates engaging, energized, and exceptional event experiences. He can be contacted at Bob.McGlincy@willwork.com