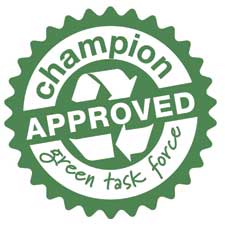 Champion Exposition Services, a provider of event marketing services for tradeshows and corporate events, recently announced the creation of a new Green Task Force Seal of Approval to help show organizers, meeting planners and exhibitors identify eco-friendly and sustainable products. The initiative is part of Champion's year-round environmental leadership in the events industry and in honor of Earth Day, April 22.


"We are proud to be the first and only general service contractor to offer a Green Seal of Approval on environmentally sustainable products used in event production," said Jenny Burr, VP of customer experience at Champion Exposition Services and founder of Champion's Green Task Force. "While many of the products, furnishings and materials utilized in the production of events are reused, recycled and repurposed as part of Champion's green strategy, the Champion Green Seal is used exclusively on items that meet specific criteria."
Champion's Green Task Force Seal of Approval is awarded to items that meet at least two of four sustainable criteria. Products must be made from at least 25 percent post consumer or post industrial recycling content, be recyclable, be biodegradable or meet the highest standard of sustainability within that industry or product line. Champion's Green Seal takes into consideration the closed loop lifecycle of a product from creation and usage to disposal or recycling.
Champion has partnered with some of the most eco-friendly organizations and events in the industry including the American Wind Energy Association's WINDPOWER Conference & Exhibition, Oracle OpenWorld and the U.S. Greenbuild Council's Greenbuild International Conference and Expo.
Champion's Green Task Force has spent several years investing significant resources into products, services and technology tools to help show organizers, meeting planners and exhibitors implement successful green solutions. In addition, Champion is a proud sponsor of the Green Meetings Industry Council.
Earlier this year, Champion announced that Champion Shipping Services (CSS) joined the SmartWaySM Transport Partnership, an innovative collaboration between the U.S. Environmental Protection Agency and the freight industry designed to significantly reduce greenhouse gases and air pollution. Champion contributes to the Partnership's goal to reduce between 33 and 66 million metric tons of carbon dioxide and up to 200,000 tons of nitrogen oxide per year by 2012 by improving the environmental performance of its freight operations.
As the general contractor for hundreds of shows a year, Champion is committed to ecological conservation and reducing its carbon footprint.
Champion offers a variety of green solutions such as Eco-Sign™ substrate board for graphics and signage, VUTEk printers producing high-quality signage without laminate or glues, Eco-friendly carpet made from post industrial recycled content, Green Promise ™ paints with low or zero volatile organic compounds used on props and onsite recycling programs.
Champion's Eventrac Technology Suite offers propriety online technology tools to manage work flow and reduce the need for printed documents. Champion also offers custom graphics and booth designs with eco-friendly options for a total sustainable exhibit.