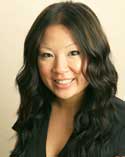 The Employco USA, Inc. recently announced the promotion of Tina T. Chen to vice president.
Chen will be working to create a client-oriented platform and improve the work flow across all divisions of The Wilson Companies, including Employco USA, Inc., Corporate Risk Management, Inc., CRM Benefits, Inc., Carlisle Staffing, Ltd., FirstSourceHR, Inc., and CB Insurance (a division of CRM).


Chen's career at The Wilson Companies has been successful. She was first hired in 2007 and promoted in July 2009 to director of operations of Carlisle Staffing.  During the past 12 months, Chen has implemented many affirmative changes throughout Carlisle Staffing. She has rebuilt operations, streamlined many processes, improved workflow and has grown sales. She has now been promoted to do the same across all divisions.
As a detail oriented and client driven individual, Chen works with passionate dedication to provide the highest level of client service while maintaining the utmost integrity.
Chen holds a Bachelor of Science in psychology and advertising with a minor in information technology from the University of Illinois in Urbana-Champaign.