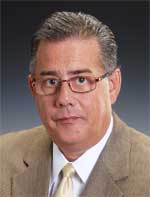 The Cincinnati USA Convention & Visitors Bureau (CVB) has named Randy Parker its new director of sales. In this role, Parker will manage the day-to-day activities of the CVB's Cincinnati and Washington D.C.-based sales staff. He will report to Barrie Perks, vice president of sales and services.


"The CVB and its partners are coming off our fourth consecutive year of growth and strong results in hosting and winning major convention business," said Dan Lincoln, president and CEO of the Cincinnati USA Convention & Visitors Bureau. "This hire underscores our commitment to continue to build on that foundation and position Cincinnati to continue our upward momentum."
Prior to joining the CVB, Parker served as vice president of sales at Nationwide Meetings, where he successfully launched the sales and marketing initiatives for the new meeting brokerage company. Before that, Parker spent 21 years in the hospitality industry, serving as director of sales at several high profile properties including the Fairmont Orchid in Kohala Coast, Hawaii, the Fairmont Hotel in Dallas and Loews Ventana Canyon in Tucson, Arizona.
"Randy brings more than two decades of experience from around the country and a strong track record of sales success," said Lincoln.
A native of Hawaii, Parker earned a Bachelor of Science degree in Business Management from Hawaii Pacific College.
The Cincinnati CVB finished 2009 with contracts representing 198,000 future room nights and $59 million in new visitor spending, both record-setting figures that are up 24 percent over the last four years. Last year, the CVB won the 2011 Shrine Annual Meeting and the highly-coveted 2013 National Fraternal Order of Police convention. Cincinnati also bested more than 50 cities around the globe to win the 2012 World Choir Games, which will be the largest international event in the region.
"Randy is joining our team at an exciting time for Cincinnati USA," added Lincoln. "Filling this key position adds fuel to the city's positive momentum, generated by progress and development downtown and throughout the region."
For more information, visit www.CincyUSA.com.