When toy maker Cepia LLC – famous for brands such as Zhu Zhu Pets, The Happy's and Gloe – approached ELITeXPO to design its tradeshow booth in June 2014, the event logistics and exhibit management services firm was tasked to produce a 30 x 60 exhibit that highlighted these vibrant and playful brands in a unique way.
ELITeXPO teamed up with Classic Rental Solutions, a designer and manufacturer of portable, modular and custom-hybrid exhibit solutions, to do just that. Producing an environment that represented the heart of the toy company was the goal and ultimate end result at the 2014 Licensing Show in Las Vegas – from the Classic Rentals design and production team who see every challenge as an opportunity to rise above and beyond expectation.
Custom inlaid carpeting, arch entryway, theater area, large monitors and large tension fabric graphics stayed true to Cepia's branding, and created a fun and welcoming booth environment.
"This was a great example of teamwork, and Classic Rentals provided an exhibit that was nothing short of a very custom look," said Chuck Michel, vice president of tradeshow services, ELITeXPO.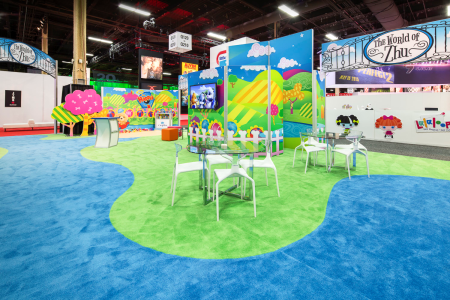 Classic Rental Solutions, a division of Classic Exhibits based out of Portland, Ore., works specifically with a network of more than 175 distributors to create booth solutions for clients from an extensive rental gallery or from the ground up. The company has been operating as it currently stands since 2005, when Classic decided to meet the high demand for booth rentals.
"Business has been growing like crazy over the last several years," said Jim Shelman, general manager, Classic Rental Solutions. "I think the main reason for that is how flexible we are to build, with constantly adding to our inventory, customizing and turning things around quickly for people."
Demand combined with a flexible team is the driving force behind double-digit growth year after year within rental and graphic sales for Classic Rentals. In 2013, the company opened a Midwest depot outside of Chicago to save shipping costs for rentals on the East Coast.
Booth rental may be the most viable option for an exhibitor for several reasons, Shelman explained. It could be the need to reuse and reassemble the booth for multiple shows throughout the year, or a customer may simply want the ability to easily change and grow their design with the development of their brand.
"Sometimes they just don't want to be locked down into one thing, so they decide to rent to be able to change it up every time," Shelman continued. "Or, they don't want to deal with storing it, managing it or getting it prepared for the show. When someone rents, they don't have to worry about any of that."
Less worry equals less of a burden on the shoulders of distributors and clients, which is why Classic Rental stages and photographs every design before it is sent out, ensuring everything is ready to go for show time.
"People seem to feel comfortable with that because we make sure everything fits and looks good every time," Shelman said.
Online design galleries include more than 160 inline and island rentals as well as accessories, such as iPad kiosks, counters, towers and other workstations. Keeping up with design trends can be a challenge, Shelman said, but one that also makes the business exciting.
"That's what pushes you to be able to offer things that maybe haven't been seen in the industry before, and that willingness to try new things and make it happen is what makes us unique," Shelman said.
The company is devoted to keeping up with trends within the industry as a whole – and that may sometimes mean trying new things.
Starting this year, Classic Rental Solutions began to offer an incentive program for distributors to return their booth with as little damage as possible. Known as the Rental Rewards Program, 2 percent of invoice credit is now awarded toward the next rental if an exhibit comes back properly packed and undamaged.
According to Shelman, the decision was based on one that actually benefits both the consumer and the company in preventing capitol loss on funds from damaged equipment.
"It's a way of putting a positive spin on a real serious problem, and it's the first time something like this has ever been offered in our industry," he said. "It gives us a chance to team up with I&D companies to make everyone aware of the potential benefit this is to our mutual customers."
Connections to the resources available at Classic Rental Solutions present advantages in that clients have the ability and often choose to do a combination of purchase and rental products.
"I think the main message here is we feel that we're constantly trying to be the front runners in this industry, from our large inventory to the customization we offer," Shelman said. "If someone wants to rent it, whether we have it in our inventory or not, we don't turn it down.
"I've been in this industry for over 30 years, and my favorite part is the unlimited, exciting, new and changing designs," Shelman boasted. "I've never lost that excitement or enthusiasm about walking through the shop and seeing something new every day."