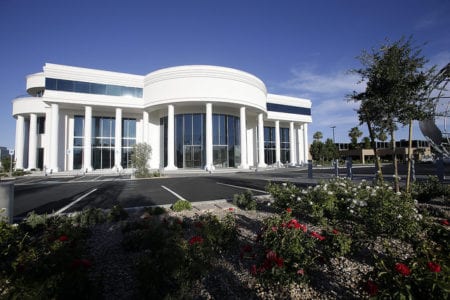 Las Vegas' most unique free-standing venue and only full-scale conference center will exhibit at Booth No. 3614
The Conference Center of Las Vegas, the destination's only free-standing conference and special events center, will be available for site visits during this year's IMEX America, to be held Oct. 18 – 20 at Sands Expo.  Encompassing 20,000 square feet of flexible meeting, seminar, training event and wedding space, as well as 48 onsite guest rooms, the Conference Center of Las Vegas is conveniently located 5 minutes from McCarran International Airport and the Las Vegas Strip.
Suitable for groups of 50 to 720 attendees, the inclusion of onsite overnight accommodations for up to 200 attendees makes this venue ideal for hosting a variety of unique events. Unlike any other facility, the Conference Center of Las Vegas' overnight accommodations are available exclusively to guests booking an event.
The Conference Center of Las Vegas welcomes corporate meetings, association conferences, education events, training seminars or any event when an immersive, focused atmosphere is desired. Meanwhile, its elegant 5,000-square-foot front foyer, with soaring 29-foot-high ceilings, and expansive, 10,000-square-foot ballroom make it a perfect venue for weddings, reunions, birthday and anniversary parties—or any other occasion when a stunning backdrop is in order.
For meetings, the Conference Center of Las Vegas offers six conference rooms with capacities of 22 to 61 for lecture-style seating and 28 to 79 for theater-style seating, as well as one multipurpose room with a capacity of up to 72 for lecture-style seating and 96 for theater-style seating. Onsite services available include 2 large, customizable LED screens, including one 22-foot-high screen in the foyer and one 22-foot-wide screen in the south lobby; state-of-the-art audio/visual, wireless and production services; a 2,500-square-foot kitchen with customizable food and beverage service available 24/7; an expansive registration area; business center services; 24/7 security and onsite parking for 200 vehicles.
Of its 48 onsite overnight rooms, 46 have two queen beds, a bathroom, desk and sitting area. Two one-bedroom accommodations have a master bath, living room and wet bar, while one four-bedroom accommodation offers three baths, a living room, dining room and kitchen—perfect for an executive retreat, VIP speaker green room or bridal party suite.
To help planners produce the most memorable and crowd-pleasing events possible, the Conference Center of Las Vegas is proud to partner with Metropolitan Exhibition Services, Inc. Preferred caterers are Masterpiece Cuisine and Superior Event Services. Together with these industry leaders, the Conference Center of Las Vegas will ensure every meeting, education event, conference social event is a seamless and extraordinary experience, from start to finish.
"Our satisfied customers have told us time and time again how grateful they are to have a venue like ours in Las Vegas," explains Michael Fiorentino, general manager, the Conference Center of Las Vegas. "At this venue, groups can 'own' the entire venue and be free from the distraction of resort-casino atmosphere. Yet, they're still conveniently located in the center of the meetings, events and weddings capital of the world."
For more information about The Conference Center of Las Vegas, or to inquire about booking a site visit or an event, go to conferencecenteroflasvegas.com or contact Catherine Price, sales director, at catherine@conferencecenteroflasvegas.com.