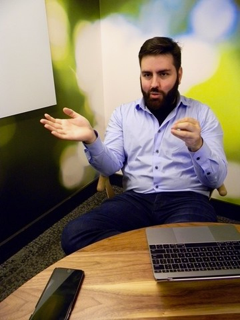 Alven Diaz (at right) has been chosen to lead technology expansion for company's next phase.
Conference Solutions (CSS), a leading provider of automated one-to-one and pre-scheduled meetings products, today announced the appointment of Alven Diaz as Chief Technology Officer. 
Diaz, fresh from a stint at Raise Marketplace, has previously worked for a number of firms in the Bay Area and Chicago including Octal Group, Tastebud Technologies and Viagogo. 
"We're seeing increased demand for our algorithm-based scheduling technology, and in broader markets than just the meetings space where we have several years of traction," said Laura Welsh, CEO of CSS.  "We have a unique opportunity to extend our platform and technology partner ecosystem for a host of new users, and Alven is the ideal person to lead that effort for our organization right now."
Diaz is a software technology professional with a strong history in entrepreneurship and early stage companies.  He studied Computer Science at CSUB before transitioning to enterprise software development.  Through an analytical and disciplined approach, Diaz has helped identify and develop the ideal product / market fit for technology companies.  By building solid communication channels with clients, he has a history of delivering solution-oriented platforms geared to end users.
"This is an exciting time for CSS, and for the automated scheduling space in general," said Diaz.  "It's wonderful to be a part of a culture dedicated to innovation.  We're growing our team and relishing the challenge of redefining uses for scheduling and business matchmaking, and aligning with complementary new platforms and partners."
See the CSS platform in action at the FUND Conference, September 27-29 in Chicago, or visit ConferenceSolutions.com to learn more about the CSS team or schedule a demo of this patented, automated scheduling software.