by Melissa Skipworth, REALTOR® with Coldwell Banker Premier Realty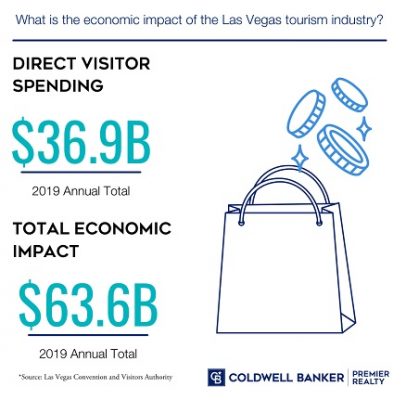 The Las Vegas Convention Center is fully booked for the remainder of 2021, with 30 performances scheduled. The convention industry employs 67,000 people and generates more than $11 billion in revenue. What does this mean for a business that came to a standstill in early 2020? Many committed employees, like others, were furloughed or lost their jobs and were forced to search for work elsewhere. I am quite familiar with leaving the comforts of a job I love and know so well, having been introduced into the tradeshow business at an early age. I took a risk by starting my own real estate business, but my sales expertise and tried-and-true tactics have proved to help me succeed in my new endeavor.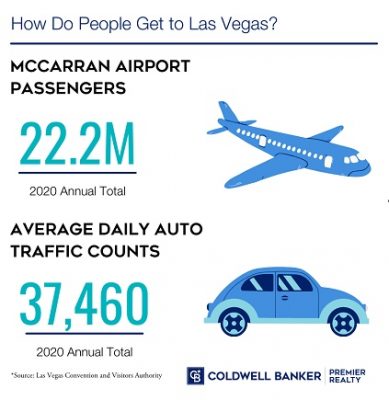 I can now understand the economic effect of the epidemic through a different perspective. The rising trend of tourism, on the other hand, shows a significant increase in our tourist volume, resulting in higher hotel occupancy rates. In fact, compared to 2019, when the city was still operating at full capacity, Las Vegas tourist flow is down -22 percent. The newest entrants to the Las Vegas community, Virgin Hotel, Circa Resort and Casino and Resorts World, are among those hoping to gain from the flood of travelers.
My real estate services are not limited to buying and selling a residential property. With Coldwell Banker Premier Realty, I can guide my clients through relocation, property management, commercial investments and luxury transactions. All of this qualifies me as an excellent partner, local market expert and industry specialist for firms and individuals attending the conferences.
Stay for Las Vegas, not just for the conventions. As a Las Vegas resident, I have seen the city expand beyond its status as the world's gaming capital. This bustling metropolis is not only a tourist destination, but also a neighborhood hangout. Here are a few locations to visit if you have an extra day to spend in our corner of the Southwest:
Area15: Much like the mysterious Area51 that graces our desert border, Area15 has a series of immersive experiences with art installations, virtual reality, exciting shopping, and events with distinction.
Neon Museum: If you're familiar with Vegas, you're aware that we have famous neon signs that can be found everywhere from downtown to The Strip. The Neon Sign Boneyard is committed to collecting, conserving, researching, and exhibiting famous Las Vegas signs for educational, historic, and artistic and cultural purposes.
Speakeasies: You will not want to miss visiting some of our greatest speakeasies.
See the newest hotels:
Virgin Hotels:  Virgin Hotels wants to keep you engaged in where you are, the Mojave Desert, in a city that aspires to transfer you to locations all over the world. The former Hard Rock Hotel has been renovated to include new live event spaces, conference rooms, and delectable new restaurants.
Resorts World Las Vegas: Swim in a five-and-a-half-acre pool complex (which, unsurprisingly, is now the largest pool deck in Las Vegas) with seven pools, including The Strip's only infinity-edge pool and use 250,000 square feet of meeting and event space as well as connectivity to the Las Vegas Convention Center by way of an underground transportation system directly connecting the two venues.
Circa Resort and Casino: Check out the Circa Casino and Resort for the largest sportsbook, luxurious amenities, the glamorous multi-tiered pool amphitheater. Don't forget to see Las Vegas icon, Vegas Vickie, a beautiful kicking cowgirl neon sign that used to be perched above the Fremont Street Experience.
Rent a car and visit Red Rock: Our National Conservation Area is at the top of the list of locations to visit for natural wonders! You may either drive the lovely picturesque 13-mile journey to observe the canyon's highs and lows, or hike one of the many hiking paths with hidden waterfalls strewn around. Looking for a one-of-a-kind adventure? Try the Red Rock Canyon Scooter Car Tour, which is an open-air cruising tour.
As you can see, Las Vegas has a lot of untapped potential by the end of 2021, and it is fast evolving into a destination that's more than just nightclubs and high-end shopping. We are looking forward to welcoming the public to our new Las Vegas after COVID.
Melissa Skipworth is a licensed REALTOR® with Coldwell Banker Premier Realty Lic. S.0191667. If you have questions about buying or selling in today's market, contact her at 702.481.4103 or visit her website at melissaskipworth.cbvegas.com. Equal Housing Opportunity.