Corinthia Hotels, a collection of properties founded by the Pisani family of Malta, appointed an international hotelier as general manager of Corinthia Hotel St. Petersburg in Russia.
With 12 years' experience as general manager, Jesper Bo Henriksen will oversee the day-to-day business operations of the hotel. He will ensure an optimal level of guest and employee satisfaction as well as profitability. He believes that "Anticipation and being proactive is key to luxury; otherwise, you're just like anybody else."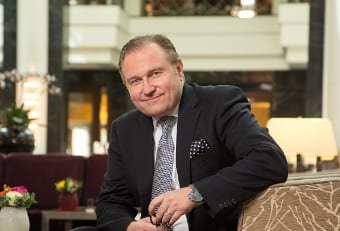 "We are delighted to welcome Jesper to the Corinthia family. He joins the Corinthia St. Petersburg at a very exciting time, with the city attracting an increasing amount of leisure and corporate travel. Jesper's appreciation for the history of the hotel and his strong belief in the importance of anticipation and storytelling will prove to make him a perfect fit in our growing network of luxury hotels," said Simon Naudi, CEO, Corinthia Hotels.
Moving from the Radisson Royal Hotel in Moscow, one of Joseph Stalin's legendary 'Seven Sisters' skyscrapers, Henriksen's successful hotel career spans 34 years in nine different cities worldwide.
"Joining Corinthia in St. Petersburg feels like the perfect next step for me. I believe my own values blend seamlessly with the value system of Corinthia's service promise – Craftsmanship of Care, and my experience from my previous three years in a leading hotel in Moscow will prove to be indispensable in my new role," said Henriksen.
Henriksen is an hotelier through and through. He has worked his way up the rungs in the hospitality industry, starting as a bellboy in his native Denmark in the 1980s. Then, he gradually progressed through a sales career path.
His enthusiasm to achieve a unique combination of historical flavor, modern infrastructure and world-class service in his hotels embodies the 'Spirit of Corinthia.' His desire to preserve the history of the buildings and tempt guests to his hotel with fascinating stories of its past ensures he will be a perfect fit at Corinthia.
Henriksen's fundamental understanding of the hospitality industry ensures a hands-on approach. During his time at the Radisson Royal Hotel in Moscow, he reconstructed the entire Talent Development department.
"The new system's goal is to help identify employee talents among the hotel's 1,000-plus employees and put poorly placed staff members into new roles," he added.
During his 30-year employment in the hospitality industry, Henriksen gained experience worldwide. He worked in France, the United Arab Emirates and his native Denmark before becoming a general manager for the first time in 2002. Since then, he was been appointed as a general manager six times, working in cities, including Brussels, Paris, Johannesburg and Moscow.