Creative Banner Displays, a leading manufacturer and nationwide supplier of visual communications, is showcasing its new stratus retractor by offering a free Universal Banner Light with the purchase of a kit during the fourth quarter of 2014.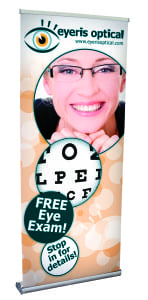 Featuring an aluminum footless base, which provides a low center of gravity creating a sturdy display, Creative Banner's Stratus Retractor uses solid, lightweight construction that is easy to move from location to location and offers a three-section shock cord pole for quick assembly.
The graphic includes a protective laminate to prolong the life of the banner and comes with a two-year warranty. The Stratus Retractor is rated at 200 on the Retractor Calibration Assessment Test (RCAT), signifying the minimum number of retractions this display is guaranteed. Creative Banner gives a certification rating for all of its retractors by testing the components for optimal use on its very own RCAT device.
Great for hallways, lobbies, tradeshows, presentations and meetings, this retractor is ideal for high traffic areas with minimal space.
For more information, visit www.creativebanner.com.