CSI etc. (Expositions Tradeshows Conferences), a national tradeshow and exposition services contractor, partnered with Urban Expositions, which offers tradeshow management services.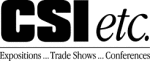 "We were thrilled that after an all-encompassing proposal process, Urban Expositions had chosen to trust this part of its portfolio of shows to us," said Ken Porter, president and CEO, CSI etc. "My team is fanatical about producing faultless shows for our customers, and we are thankful that the Urban Expositions group also values our standards of services."
The portfolio for CSI etc. will include the International Restaurant and Food Service Show of New York, Western Food Service and Hospitality Expo and Florida Restaurant and Lodging Show.