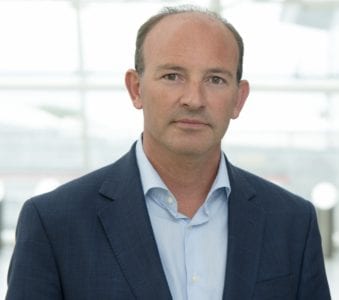 ExCeL London has announced that David Pegler, CEO, has left the company. Pegler joined ExCeL in 2008 as managing director and, following the appointment of Kevin Murphy as chairman, was appointed chief executive officer in early 2013.
ADNEC has announced that ExCeL's Executive Director Exhibitions, Jeremy Rees (pictured right), has been appointed acting CEO with immediate effect. In line with ADNEC employment procedures, Rees will have the title of acting CEO for the next 12 months.
ExCeL Chairman Kevin Murphy comments: "In the last few years, ExCeL has firmly established itself as a home of world leading events. This year will be a record breaking year for our business, as the host venue for 300 events, welcoming 4 million visitors and 40,000 exhibitors. We are looking forward to another successful year in 2018, especially with the opening of the Elizabeth line, which will connect ExCeL to central London is just 15 minutes. I would like to thank David for his contribution to ExCeL and to wish Jeremy every success in his new role."
ExCeL London is the capital's international convention and exhibition centre, located in London's Royal Docks. Since opening in November 2000, ExCeL London has hosted over 4,000 events including trade and consumer exhibitions, conferences, association meetings, product launches, AGMs, gala dinners, award ceremonies, sporting events and religious festivals. More than 20 million people from more than 200 different countries have visited ExCeL London. ExCeL London was acquired by ADNEC, the Abu Dhabi National Exhibitions Company in 2008.