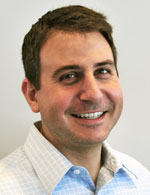 Derse recently announced the hiring of David Sherman as Vice President of Creative Services. In this position, Sherman will be responsible for providing the company-wide creative and experiential marketing vision as well as overseeing the research and measurement offerings. He will also work with management at Derse's six fabrication facilities to ensure creative resources are in place to service current and future clients.


"As our client's strategic and experiential demands become more complex, we are thrilled to have someone whose approach combines design aesthetics and social science disciplines," said Adam Beckett, President of Derse.  "Our ability to attract talent like Save Sherman speaks volumes to Derse's strength in the marketplace. Certainly, having him join our team gives us unmatched creative strength."
Sherman joins Derse with over 10 years of industry experience.
He was also recognized by Exhibit City News in August of 2009 as one of the Top 40 Trade show Professionals under 40-years-old.
Derse employs more than 350 professionals in Atlanta, Chicago, Dallas, Las Vegas, Milwaukee, Minneapolis and Pittsburgh.
For more information, visit www.derse.com.