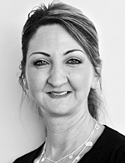 Derse is pleased to announce the addition of Dawn Culp to its corporate team as the director of marketing environments.
Culp comes to Derse with over 10 years of marketing, sales and project management experience in executive briefing centers for Sun (SM). She began as a special projects manager and was promoted throughout her tenure until reaching her final position at SM, senior operations and business intelligence manager.


In her role, she managed global business teams and operations in Menlo Park, Calif., Louisville, Colo. and Edinburgh, Scotland.
"Dawn's proven ability at SM to utilize business intelligence to show quantifiable return on investment, will be invaluable in helping Derse clients to justify and grow their permanent marketing environment programs," said Adam Beckett, Derse's president. "The strategic decision to add Dawn's client-side briefing experience, paired with her passion to grow this very important vertical market at Derse, is just one more way that we will continue to deliver smarter wins for our clients."
Derse has successfully implemented permanent marketing environments and executive briefing centers for a variety of clients, including SC Johnson, AT&T, Samsung Wireless, Sub-Zero/Wolf, NEC and Verizon.