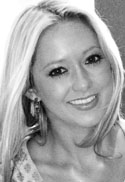 DisplayWorks LLC, a design, fabrication and management company, has announced the addition of a new account executive. This new team member will be working in Colorado.

Kathryn Rue will service national and international clients' tradeshow exhibit needs across a broad scope of industries.
Rue most recently held a position as an account executive, working the last six years for clients such as Covidien, Pilatus Business Aircraft, DivX and Procter & Gamble. She holds a Bachelor's in Graphic Design from the Art Institute of Colorado and is very happy to have found a profession that allows her to use many of her creative, professional talents.
"We are pleased to have Kathryn on board," said Mike Bartley, chief operating officer at DisplayWorks. "With her exhibit sales, design background and extensive branding experience, she will bring superior quality and a strategic approach to every project, while helping our customers leverage the full value of their trade show investment."