A seasoned account executive brings specialized marketing and interactive expertise to DisplayWorks, an exhibit, training and marketing communications company.


Jeff Dougherty has joined the company as senior account executive. Dougherty will be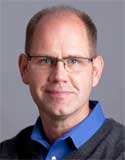 based in DisplayWorks' full-service Cincinnati-area facility located in West Chester, Ohio.
"We're pleased to welcome Jeff to our team," said Herb Hite, CEO, DisplayWorks. "His unique skills in marketing, media and business development as well as his extensive exhibit house background will further support our current clients and strengthen the steady growth of our Cincinnati location."
Dougherty has more than 14 years of experience in the exhibit industry with a strong background in business marketing and interactive display technologies. He brings a strategic approach in spearheading client's exhibit and event marketing programs with a focus on effective messaging and storytelling.
Prior to joining DisplayWorks, Dougherty worked as director of business development for Blue Pony, where he led sales and marketing initiatives while helping clients with content strategy and a range of digital signage, presentations and interactive media projects.