by Bob McGlincy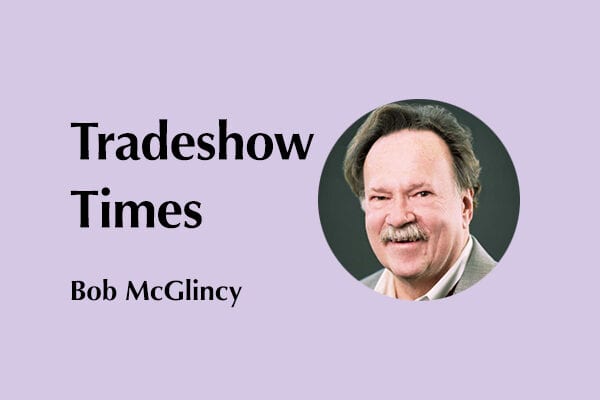 During December 2021, new COVID restrictions were implemented in Europe and Asia. China locked down 13 million residents in the city of Xi'an on December 22. Previous to that date, Portugal, Germany, Finland and the Netherlands forced closures of some businesses.
In the spring of 2020, the United States mandated COVID restrictions in most parts of the country. Some states rescinded them in a few months and started opening businesses; a few even allowed conventions to return in 2020. Other states kept businesses, including convention venues, shuttered into the summer of 2021. Did closing businesses longer help save more lives?
The chart below compares the number of deaths, per 1,000 population, in the six states that employ the largest number of convention workers in the United States.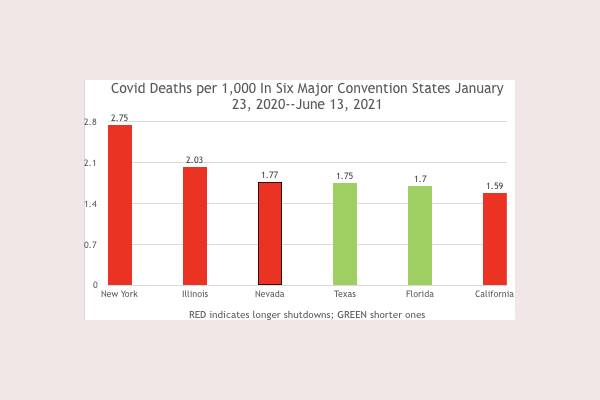 California was the first state in the country to issue a "stay at home" order; they did it on March 19, 2020. Illinois and New Jersey followed, issuing orders on March 21, then New York did so one day later, on March 22. All six states above issued "stay at home" orders between March 19, 2020 and April 2, 2020. Florida and Texas rescinded their orders on April 30. New York and California had the tightest mandates, and delayed removing all restrictions until June 15, 2021.
The chart below shows the number of COVID-reported deaths, by state, for 2020 and 2021, up until June 13 (by which time almost all restrictions had been lifted nationwide).
State Population Deaths* per 1,000 State Population Deaths Per 1,000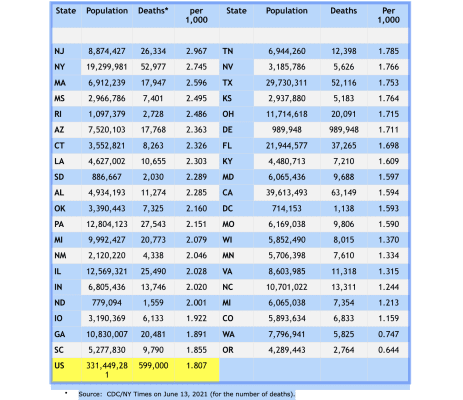 New Jersey, New York, Massachusetts and California were among the last states to remove lockdown restrictions. During this period, NJ, NY and MA had the highest percentage of deaths in the country; CA, TX and FL were all below the US average. Florida had one of the shortest and most lenient policies, while California had one of the longest and most restrictive ones – so how do the two states compare during this time period? California reported 104 fewer COVID-related deaths per one million residents, than did Florida.
Florida and Texas were two of the first states to host conventions. The OCCC re-opened in July 2020 (hosting AAU Volleyball and Together Again Expo); other Florida cities to hold conventions in the fall included Tampa, Palm Beach, Fort Lauderdale, and Miami Beach. Arlington Texas hosted the National Rodeo Finals and attracted over 130,000 fans, December 3-12, 2020. Georgia started hosting conventions again in February of 2021. The Tobacco Plus Expo opened at the LVCC in May, followed by World of Concrete in June. McCormick hosted the Auto Show in July. The first show back at the Javits Center, NY Now, opened August 8, 2021. MD&M reappeared in Anaheim August 10. Conventions proved prevalent across the country throughout the Fall of 2021, with several cities hosting over 100,000 attendees at a single event.
Looking at the data as of 12/21/21, not surprisingly, the number of deaths per thousand increased. The five states in the country that surpassed three deaths per thousand were: Mississippi (3.49), Alabama, Arizona, New Jersey, and Louisiana (3.21). For the six convention states displayed in the first graph, the number of deaths per one thousand population were: New York (2.99), Florida (2.90), Nevada (2.71), Texas (2.60), Illinois (2.40), and California (1.92).
This is not a scientific analysis; it is a review of data. Many different variables affect the number of deaths in any given state.
When looking at economic losses, and mental health issues during the pandemic, were the lockdowns effective? Did shutting businesses effectively combat COVID? Or was the cure worse than the disease?
What do you think?

Bob McGlincy is director, business management at Willwork Global Event Services. Willwork creates engaging, energized, and exceptional event experiences. He can be contacted at Bob.McGlincy@willwork.com