On the balmy evening of May 10, more than 100 tradeshow professionals from across the industry gathered at a bowling alley in Massachusetts to raise capital and generate awareness for the greater good. Hosted by EDPA Northeast, Rally at the Alley is an annual charity drive that gives back to an individual in the industry affected by illness or loss. 2018's honoree was Kim Hally, wife of BlueHive Executive Vice President Jack Hally.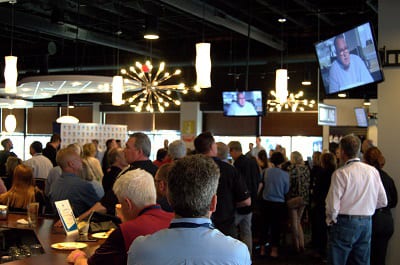 The evening began with introductory remarks from EDPA NE President Stephen Ross before BlueHive's in-house creative agency, Paris Marketing, presented a moving six-minute video detailing Kim's five-year journey as survivor of a devastating brain stem stroke. The poignancy of the story set the tone for the evening, with spectators giving as much energy to the event as those participating in the bowling.
A number of teams fielded some impressive bowling sharks, but the point of the occasion was never forgotten. Between donations, registration fees and the infamous 50/50 raffle, the 2018 Rally at the Alley raised an incredible $16,500 to donate to Help Hope Live, the medical charity that manages and distributes donations to support Kim's healthcare costs.
But the battle does not end there. Kim, like many survivors of a brain stem stroke, continues to require 24/7 medical care, with the costs all too often not covered by healthcare insurance.
To support Kim Hally via her Help Hope Live fundraising page, visit  https://helphopelive.org/campaign/4353/