Named 2013 Designer of the Year by the Exhibit Designers and Producers Association (EDPA) was the creative director for Elevation Exhibits & Events, which designs and manufactures exhibits and events.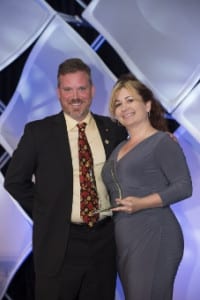 Winning for her outstanding work in the field of exhibit design was Dana Esposito, a 16-year veteran of the exhibit design industry.
Internationally recognized national trade association, EDPA said the Designer of the Year Award "acknowledges a designer who works diligently to enhance the professional standards of exhibit designers and contributes their talents, creativity and personal time to bring innovation to exhibit design."
"Beyond being honored to be nominated by the leadership of Elevation, I was surprised to actually receive the award by the EDPA," said Esposito. "The exhibit industry, where design, business and service fuse together, is only going to continue to become more fascinating in the future."
Esposito joined Elevation Exhibits & Events in 2011 and was named creative director at the firm earlier this year.
"On top of being a great designer and communicator, [Dana] is always reaching outside our walls and into the industry," said Ken Karns, president, Elevation Exhibits. "This award recognizes her outstanding efforts on behalf of our company, our clients and the exhibit industry."
Her award was announced and presented during the President's Gala at EDPA ACCESS 2013 on Dec. 5 in Marco Island, Fla.