Elevation Exhibits & Events, an exhibit design and event-planning firm, appointed a director of account management, a new position created in response to the rapid growth of the company.
Bringing many years of experience to the position is Vicky Fontaine.
"We are pleased to have someone as talented and experienced as Vicky Fontaine join our firm and help drive our continued success," said Jim Burke, founder and principal, Elevation Exhibits.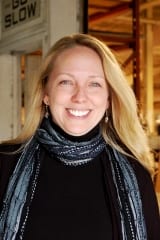 Burke added that the new position was necessary to maintain the high service levels that Elevation provides for clients.
"We've experienced significant growth in the last few years, adding major clients in entertainment, healthcare, technology and other industries," he said. "Ms. Fontaine will help us stay ahead of our client needs, and continue to deliver exceptional work in the field of exhibit design and promotions."
Fontaine's responsibilities will include the creation of standards for the department, interfacing with other department heads to streamline client service and assign account managers as new accounts come in to the company. As a working account manager, she will also serve her own set of clients.
"I'm excited to join such a dynamic and respected firm," Fontaine said. "My goal is to build on our team atmosphere, and to make sure account managers have the support they need to continue the great work they do for our clients."
She served as account supervisor for five years at Access TCA, where she managed account teams, identified new business opportunities and ensured that solutions for clients were on strategy and in budget. Before that, Fontaine held various account positions at the same company. She also worked several years at Rainier Corp., where she held positions of senior production manager, business analyst, and marketing and new business manager.
Fontaine holds an MBA, Business Administration and Management from Assumption College and a B.A. in Industrial Relations from the Université du Québec en Outaouais.