Winning the Worcester Business Journal's "40 Under 40" award was the graphic design director from Elevation Exhibits & Events, which designs and manufactures exhibits and events.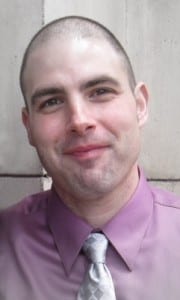 Granted annually by the publication to 40 area individuals, all under the age of 40, Bob Rucci received the award in recognition of outstanding professional and community work.
"Bob Rucci is that rare individual who's not afraid to take risks if he thinks it will make something better," said Jim Burke, president, Elevation Exhibits & Events. "He's an asset to our company, to our clients and to the community."
Active in the community, Rucci has done pro-bono work for the Boys & Girls Club of MetroWest, creating a brand identity for a cancer charity and designing a logo, T-shirts and posters for an event on behalf of the victims of the 2013 Boston Marathon bombing.
"It's a privilege to be acknowledged for such a prestigious award," Rucci stated. "I feel very fortunate to live and work where I do and contribute to my community."
Rucci was featured along with the other recipients in the Sept. 2 edition of the Worcester Business Journal.
Professionally, Rucci has worked as graphic designer for more than 15 years. Since 2006, he has been in charge of graphic design and production at Elevation, where he helps clients create an impact with their messaging in a tradeshow atmosphere. One of his favorite projects was a larger-than-life, fully-working replica of the popular Milton Bradley game 'Operation,' which he helped create for a special event.