EP&M International, producers of award-winning tradeshow exhibits and corporate installations, have announced a joint-venture to expand the company's capabilities throughout India and enhance international service opportunities for the firm.

 
EP&M International has developed exhibits and environments for a wide range of corporate and nonprofit clients. The new joint venture, EP&M India Private, represents the evolution of a six-year partnership with a New Delhi-based marketing and production company, Inter Centre Enterprises.
"We are very excited to be expanding our international offerings into India, one of the world's leading emerging markets," said Gene Lindman, president, EP&M International.  "As India becomes a bigger player in international commerce, we see an unparalleled opportunity to provide first-class service to companies looking to grow their presence at trade shows, special events and permanent installations in this dynamic market."
The joint venture will allow the company to focus on the growing number of companies that are looking to do business in the Indian subcontinent. EP&M International offers a comprehensive range of services, from content development through fabrication and installation, across the U.S. and worldwide. With clients on six continents, and completed projects at 155 venues outside of the USA, EP&M offers turnkey services that bring together a highly-skilled professional team that takes projects from concept through installation.
"This is the first India-USA exhibition joint-venture formed by two well-established companies in this industry," said Amitabh Awasthy, managing director, EP&M India.  "We are proud to deliver the best in local resources and connections in India combined with international-level project management and quality."
The partnership was out in force during the recent IAEE Expo! Expo! in Orlando to celebrate its U.S. introduction.
"Our goal is to deliver technology-driven, interactive elements and environments that are designed to enhance a visitor's impression and experience," said Lindman.  "Today's sophisticated tradeshow attendees demand strong content and memorable experiences that engage all their senses and compel them to do business with you. We at EP&M are excited by this new opportunity through a well-planned joint-venture to increase our local presence in this critical market."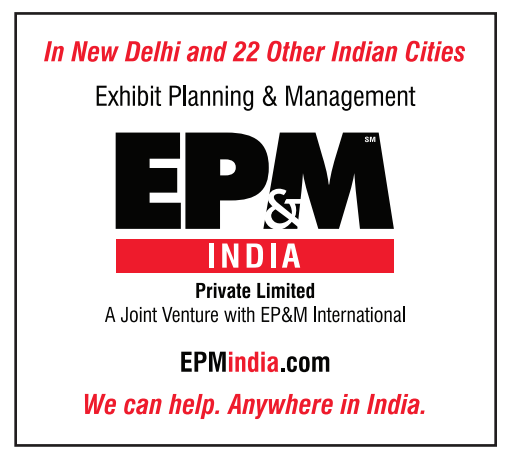 EP&M India has branch offices in the major commercial cities of Mumbai, Hyderabad, Bangalore, Chennai, Kolkata, Chandigarh and Vadodara. Formed in 1991 in New York, EP&M assists organizations by planning and executing worldwide events. EP&M conducts its design and project-management functions in Albany, N.Y., and coordinates production and delivery within the global markets it serves.
Formed in 1990 in New Delhi, Inter Centre is a design-and-display solutions company for exhibitions and events in all sectors. From preliminary design through contract closeout, Inter Centre provides project implementation anywhere in India.