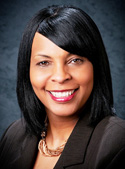 Lois McLaughlin has been named director of event services at the Ernest N. Morial Convention Center in New Orleans. In her role as director, she will supervise the planning and execution of all events held at the convention center.
McLaughlin will head a team of nine event services managers who boast a whopping 136 years experience at the convention center, with five members serving 22 or more years.


A 23-year veteran of the hospitality industry, McLaughlin comes to New Orleans from the Pennsylvania Convention Center in Philadelphia, where she served as director of event services. One of her most notable accomplishments was bringing the departments up to modern standards, which was instrumental in increasing efficiency and response time to the client base.
McLaughlin brings an in-depth knowledge of the convention industry to her new position, having served in various roles such as convention services manager, event coordinator and sales manager as she worked her way through the ranks, eventually serving as director of event services for Atlantic City Convention Center and Boardwalk Hall in New Jersey. McLaughlin also consulted on several openings, expansions and staffing for convention centers in Puerto Rico, Pennsylvania and Hawaii as a staff member of a private facility management company. Later, she further honed her skills as event services manager at the Minneapolis Convention Center.
A member of Association for Convention Operations Management (ACOM), McLaughlin earned her Bachelor of Science degree in business management from Lincoln University in Pennsylvania.
"Lois is a creative, success-driven professional with strong leadership capabilities," said Bob Johnson, president and general manager of the New Orleans Ernest N. Morial Convention Center. "We look forward to her success in directing complex projects and strengthening relationships with our clients."