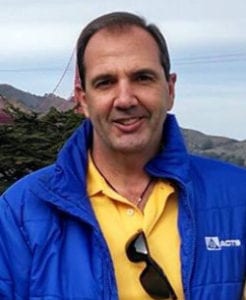 Bob Reinecke has rejoined Exhibit City News as general manager (he didn't ride in on a horse, but he is busy saving the day!). He will be assisting publisher Don Svehla in interviewing and training new sales personnel to replace the late Sales Director Kathy Anaya, who passed away unexpectedly on Nov. 17 (see her obituary at exhibitcitynews.com/?p=33077). He was previously general manager for ECN 12 years ago before moving out of state.
Reinecke has worked in the tradeshow industry for more than 30 years, primarily in I&D, running Allied Convention & Tradeshow Services from 2001-2013 and becoming a partner in ABC Expo Services in 2014. Along the way, he's worked for Willwork, NuVista, Tru Service Group and others as city manager and other I&D positions.
Says client and event producer Nanette Duffy, "Robert and his team are experts in what they do. I've had the pleasure of working with Rob and ACTS for a number of years at the SF Fall Antiques Show and he never fails to provide excellent service and a "can-do" attitude. I highly recommend to anyone looking for the best in the business."
He hails from Long Island, New York, where he got that incredible "can-do" attitude and he has three grown children, a pre-teen daughter (who's godfather is ECN publisher Don Svehla) and one grandchild. ECN welcomes Bob Reinecke and his great energy into the fold!
Bob Reinecke can be reached at the Exhibit City News offices at (702) 309-8023 or by email at bobr@ExhibitCityNews.com.