Nimlok unveils improved Rollup 01 banner stand


Nimlok, a provider and manufacturer of portable, custom modular and custom trade show exhibits, recently introduced a new and improved RollUp 01 banner stand.


A staple to Nimlok's line of portable tradeshow exhibit solutions, including pop-up displays, tension fabric exhibits and tradeshow accessories, the improved RollUp 01 single-sided retractable banner stand features a new design with curvier edges and a clean look. The new stand is also lighter than its predecessor and comes with new leveling feet and an improved slider and grip rail.
The RollUp 01 features the same graphic size, three-piece bungee cord pole, black finish and lifetime warranty. Graphic options include standard anti-curl vinyl, premium dye-sublimated fabric and supreme polyester film with a gloss finish.
bXb Online unveils BOBtv-Best of Business Television
bXb Online (bXb), a business focused on accelerating the power of face-to-face events through online stories and experiences, has unveiled a new online event platform designed for the event marketing industry. bXb Online is developing BOBtv-Best of Business Television, an industry platform for event marketing professionals and the communities they serve. 
Leading industry associations have supported the initiative from the research and development process over the past 18 months to the on-stage unveiling at the ASAE 2012 Annual Meeting in Dallas, Texas.
Baseline metrics that are critical across the BOBtv platform will include audience reach, visitor quality, sales and marketing acceleration, visitor experience and tactical execution. In support of these components within the platform, bXb has created a partnership with Exhibit Surveys, Inc. 
RecertTrack announces industry's first portal with global education
RecertTrack has announced that its e-certification renewal support and tracking solution has expanded its portfolio of services to include global education, research, trends and news for the nearly 700,000 associations, meetings and event professionals. RecertTrack is the first company to offer an e-certification renewal support solution to certified professionals in the sector.
RecertTrack now offers a centralized site that will gather critical industry education, wherever it may take place around the world. The web-based tracking solution of RecertTrack for recertification eliminates paper waste and creates a greener and more efficient system for anyone who has a credential or license that needs to be renewed. It will also provide information and detail on continuing education that is a substantial part of the careers of individuals in the association, meetings and events industry. In the U.S. alone there are more than 30 different certification programs and many more internationally.
Da-Lite introduces the IDEA Screen

The Interactive Dry Erase Application (IDEA) Screen is a dual-purpose projection screen and writable marker board combination. Ideal for use with interactive short throw projectors, the IDEA Screen is designed to be wall mounted and will integrate seamlessly into any meeting space where both a projection screen and dry-erase surface are required.
The proprietary Da-Lite projection surface allows the projector to produce superior image quality while still maintaining the form and functionality of a marker board. A convenient tray is included at the base of the assembly for storage of dry-erase markers, erasers and interactive tools that can be used with a projector. The IDEA Screen is available in projectable sizes between 36 inches and 46 inches tall and has an extruded aluminum frame with either a black anodized or clear anodized finish.
Marina Bay Sands launches mobile app virtual tours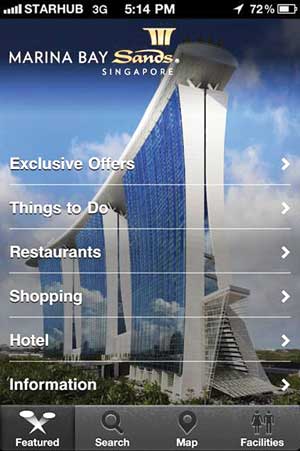 Marina Bay Sands has launched Pocket Concierge, a complimentary mobile app which is set to transform the guest travel experience. Similar to a personal mobile concierge, the app allows for easy access to information, directions, offers and virtual tours.
"At Marina Bay Sands, we are always reinventing new ways to engage and captivate our guests," said Mr. Mark Juliano, SVP of marketing at the Marina Bay Sands. "Pocket Concierge presents endless possibilities in the way we connect with our guests using technology. The unique virtual tours of our destination will enhance the way people experience Marina Bay Sands, from wherever they are."
Marina Bay Sands plans to use the app to build a closer relationship with its tech-savvy guests. Guests can also filter for celebrity chef restaurants and casual dining options by price or cuisine type.
TheAppBuilder provides event organizers with 'The Pop-Up App'
DIY mobile app building website TheAppBuilder.com, has unleashed a new app on the meetings and event industry; the 'pop-up app'. After organizers enter information about their event, its social media pages, speaker profiles and sponsors, they can immediately launch a mobile app for the event for free.
TheAppBuilder was launched earlier this year as a means for businesses, organizations and individuals to rapidly and easily create mobile apps, at no cost and without needing to have any technology skills.
Event organizers can use TheAppBuilder to create a tailored app for their event where pre-event information can be delivered and real-time in-conference news can be sent direct to the attendee's phone.