Exhibitor Media Group, the award-winning leader in tradeshow and corporate event marketing education, and DoubleDutch, the leading provider of mobile event applications, released Feb. 19 the EXHIBITORLIVE interactive mobile application for this year's event.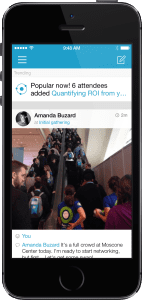 The EXHIBITORLIVE app creates a closed social network for the event, enabling conference attendees to browse the agenda, create a personalized schedule, network, post to social media and share comments via an in-app activity feed. The app, which is complimentary to EXHIBITORLIVE conference attendees, speakers and exhibitors, is now available for iPhone, iPad, Android and HTML for Blackberry. Visit the App store or Google Play, or go to http://doubledutch.me/download/exhibitorlive?region=us on your mobile device.
The EXHIBITORLIVE app designed by DoubleDutch gamifies the event experience by including a leaderboard that encourages attendees to take actions in the app and compete for the top spot, picking up virtual badges along the way. The app creates an individual experience for each attendee, who can personalize their schedule and stay on top of their agendas by receiving a reminder 15 minutes before a bookmarked session.
"Our attendees have been enthusiastic about the ease, convenience and enhanced engagement the DoubleDutch application provided them last year, and we are delighted that the app is back to enable them to enrich their EXHIBITORLIVE experience again this year," commented John Pavek, chief marketing officer, Exhibitor Media Group.
"DoubleDutch is thrilled to partner with EXHIBITORLIVE again this year," said Lawrence Coburn, CEO and co-founder of DoubleDutch, which will be in booth 670 at the exhibition. "We hope all attendees will use the app to enrich their EXHIBITORLIVE experience while connecting and developing community with other attendees."
EXHIBITORLIVE, the smart ideas conference for exhibit and event marketers, will be held March 1-5, 2015, at the Mandalay Bay Convention Center in Las Vegas. Full registration for its top-rated EXHIBITORLIVE conference and exhibition is available at www.exhibitorlive.com. Attendees can register for an Exhibit Hall pass at www.bit.ly/1LNFQkH.