(Pictured above: Jim Kelley and Galen Murdock)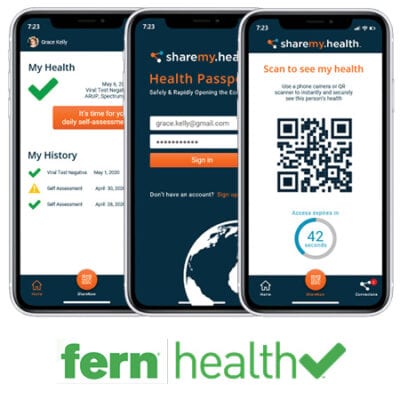 Fern, a leading national marketing support and tradeshow services provider, has announced a strategic partnership with ShareMy.Health, an innovative health care technology developer. In the wake of COVID-19, the partnership is launching Fern Health Check, a digital platform available to all tradeshow and event organizers that allows consumer-controlled sharing of health data. This partnership is expected to expand Fern's ability to promote individual safety and increase comfort levels for attending live events.
While the return to live events will require a combination of many factors, individual safety and comfort levels will be at the foundation. Fern VP of Marketing & Industry Relations Jim Kelley believes that until there is a vaccine with widespread availability and coverage—and likely for an extended time thereafter—self-assessment, testing and verification will be key elements.
"There is no disputing the value of face-to-face experiences, such as tradeshows and conferences, as it relates to commerce and professional growth," says Kelley. "The return to live events is going to be about shifting the mindset of attendees, exhibitors, venues and local jurisdictions to a place where they are again comfortable hosting and attending events. We believe Fern Health Check is a key tool that will help this occur."
Fern Health Check provides:
A convenient self-assessment portal that allows individual control of health data through a HIPAA-compliant platform that can be shared via a personalized Health Passport
Customizable policies based on organization, event and venue requirements
Dashboard reporting for event organizers that can be grouped by stakeholder segments, such as event staff, attendees and exhibitors
API Integration with industry registration and mobile app solutions
FDA-authorized testing solutions, including at-home kits for pre-event and post-event use, as well as on-site rapid testing administered by licensed health professionals
Deployment of evolving testing solutions to include "at-the-door rapid testing" upon FDA approval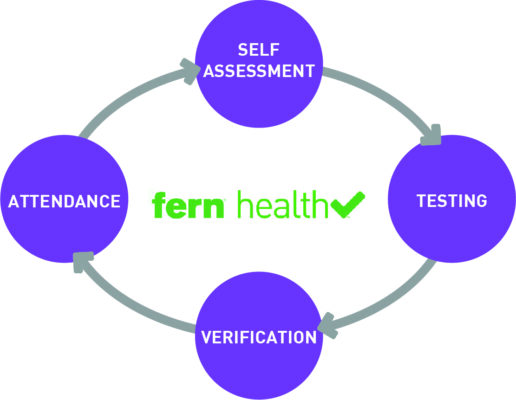 "When ShareMy.Health was founded, the principle was simple—provide individuals safe and secure access to their health data through an online platform that allows them to share information with organizations they trust," explains Galen Murdock, CEO and co-founder of ShareMy.Health. "Based on this foundation, it was easy to see that our solution could be a valuable tool for helping people regain a level of comfort about attending live events by automating the complex workflow of self-assessments, testing and health protocols."
The partnership of the two companies enhances Fern's technology-focused strategy of empowering organizations to grow relationships between audiences and brands. Fern has numerous strategic relationships with marketing and event technology organizations, which the company continues to build and develop to offer integrated solutions and Fern proprietary technologies.
Fern is a leading national marketing support and tradeshow services provider that delivers unmatched customer service, best-in-class creativity and innovative solutions for exhibitors and large-scale events. Fern is among the top three face-to-face event service providers in North America serving more than 1,400 events annually, including many top 100 shows and dozens of Fortune 500 companies.  For more info, visit www.fernexpo.com.
ShareMy.Health enables businesses to return to work safely by combining FDA-authorized tests, self-assessments and analytics in a secure cloud platform. They are a HIPAA-compliant, consumer-directed exchange where people can collect and thoughtfully share their health information with businesses they trust. Business leaders then help their employees and patrons stay healthy by automating their health policies in the platform's rules engine, dashboards and APIs. ShareMy.Health's goal is to rapidly open the economy through greater safety and comfort. For more info, visit www.sharemy.health.