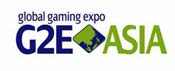 The fourth annual G2E Asia welcomed more than 4,500 gaming industry professionals from across the globe, surpassing attendance at last year's event by seven percent. These figures, released today by event organizers, Reed Exhibitions and the American Gaming Association, reflect the healthy expansion of gaming throughout the region. G2E Asia 2010 was held June 8-10 at the Cotai Strip® CotaiExpo™ at the Venetian Macao.


Event attendees hailed from 55 different countries, including Australia, Cambodia, Germany, Hong Kong, India, Macau, Malaysia, Singapore, Thailand, United Kingdom, United States and Vietnam. In particular, the number of attendees from China, Japan, the Philippines, South Korea and Taiwan increased significantly when compared to last year's event.
"The success of G2E Asia is just another sign the Asian market is truly a center for growth in the global gaming industry," said Frank J. Fahrenkopf Jr., president and CEO of the American Gaming Association. "The expansion and recent revenue reports in Macau, and the opening of the two integrated resorts in Singapore have generated a great deal of excitement in the Asian gaming community, and that buzz could certainly be felt at this year's event."
The show floor was, once again, the leading regional marketplace for cutting-edge gaming technologies and business solutions. It featured 122 exhibitors, 30 percent of which were new to G2E Asia, from 23 countries. The event continued to be a success with exhibitors this year. This was demonstrated by the fact that returning exhibitors have already claimed 86 percent of the exhibit space for G2E Asia 2011.
The conference programs experienced a 47 percent increase in attendance over 2009. Among the most popular conference programs this year was the Global Markets Forum, which covered the development and operations of casino properties throughout the pan-Asia region. In addition, special events; including the G2E Asia Poker Tournament, Roundtable Luncheon and Game Protection Seminar, were well-attended.
One of the highlights of the show was the G2E Asia Visionary Award, which recognizes leaders who have made an indelible impact on the Asian gaming industry. The award was presented to Len Ainsworth, executive chairman of Ainsworth Game Technology. After receiving this honor Mr. Ainsworth, a pioneer in the gaming equipment manufacturing sector, delivered an insightful and inspiring keynote address to hundreds of attendees.
G2E Asia is the premier tradeshow and conference event dedicated to the Asian gaming markets. Next year's event is scheduled to take place June 7-9 at the Venetian Macao.