GenieConnect, an event technology partner, launched its GenieConnect Event Wall, designed to aggregate, assemble and visually publish event information, rich media, social feeds and attendee experiences across multiple media.
Developed as a component of GenieConnect's OmniStream, The Event Wall provides additional publishing opportunities for time-sensitive event content and drastically improves the level of interactivity and engagement.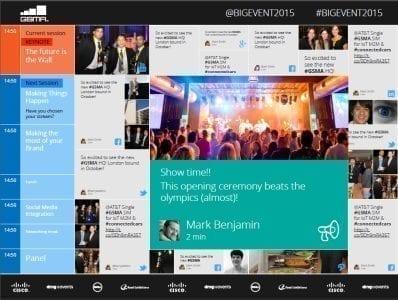 The GenieConnect Event Wall features the ability for organizers to adjust content in accordance with their requirements as well as with the needs of their attendees. Options ranging from photo displays to specific session content, images and social interaction allow organizers to keep their attendees captivated while providing an immersive social experience.
"Digital signage and Twitter walls aren't new, but having the ability to tweak a single output to reflect the changing focus of an event certainly is," said Giles Welch, CEO, GenieConnect. "As attendees more regularly interact with mobile apps and social platforms at events, the range of content produced becomes more valuable. The ability to leverage that content across additional media significantly enhances engagement at the event, and drives increased adoption of mobile and social tools for all participants."
The Event Wall is easy to implement and requires no additional installation. The product can be streamed on any device, projector or screen through a Web browser, and the entire design is completely configurable and adjustable to any desired size.
Organizers use an included 'virtual mixing desk,' to censor and control the content as it loops and displays on The Event Wall. Projection options include live schedule and location information, social media posts, sponsorships, poll results, game results and announcements. The Event Wall may also be customized easily to match event or corporate branding with the chosen colors, images and headers.