Georgia Expo was established in 1986 and is the largest manufacturer of pipe and drape in the United States.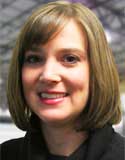 The company, which provides pipe and drape exhibition products, added Wendy Pope to their team as director of human resources.
After graduating from North Carolina State University with a concentration in human resource management, Pope worked in the staffing industry for three years. She then moved into a human resources generalist role where she worked closely with management and the executive staff to fill open positions, assist with employee counseling and investigations, handle FMLA paperwork and liaison with the Department of Labor in multiple states.
Pope brings years of experience to Georgia Expo as well as the genuine sincerity of helping others and making sure company employees are taken care of at the workplace. "I enjoy the fast-paced environment and challenges that human resources can bring as well as seeing how quickly I can match, meet and exceed those challenges," says Pope.