1915: Mammoth Typewriter
For the 1915 Panama-Pacific International Exposition in San Francisco, an 18 foot high "mammoth typewriter" was constructed. Built over three years, the oversized typewriter weighed 14 tons. More interesting was that this typewriter didn't just sit pretty as a ponderous prop but was functional as well. This massive machine was operated by a hidden female staffer connected to a small electric keyboard so that whatever she typed would also be typed by the mammoth typewriter. These messages often included breaking news, such as the sinking of the RMS Lusitania cruise chip by Germany.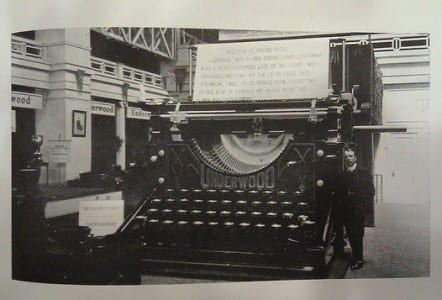 1964: The Past's Future
Hailing itself as a "universal and international" exposition, the 1964/1965 New York World's Fair was the third major world's fair to be held in New York City. The fair opened with radical technologies and awe-inspiring displays to the theme of "Peace Through Understanding," which was dedicated to "Man's Achievement on a Shrinking Globe in an Expanding Universe." Some of the most notable exhibitors included General Motors' vision of a future city with moving sidewalks, bus-train hybrids and mega skyscrapers. Another attraction that we can still experience today was the debut of the "it's a small world ride" as part of the UNICEF pavilion sponsored by Pepsi. Other thought-provoking exhibits included GM's out-of-this-world future for humans living normally on the moon, Eastman Kodak's Picture Tower displaying the world's largest outdoor color photographs of its time, the tent of tower, underwater living pods as well as many other awesome futuristic attractions.
1970: The Talking Vending Machine
The earliest known reference to a vending machine is in the work of Hero of Alexandria, a first-century mathematician and engineer. After the machine accepted a coin, it then dispensed holy water. Thomas Adams Gum Company built the first vending machine in the U.S. in 1888 that sold gum on New York City train platforms. The birth of slot machines and pinball is ultimately rooted in these early devices. Ussery Industries of Dallas, Texas, displayed its "talking" vending machine, the Venda Talker, at its Dallas convention in December 1970. Voiced by comic Henny Youngman, the machine would give out a one liner following a "thank you" after inserting a coin.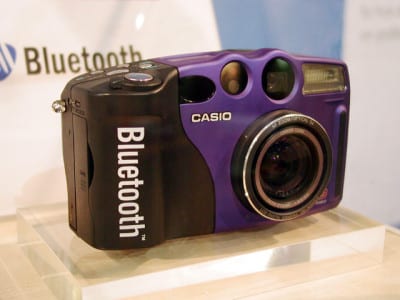 2000: CeBIT
Considered a barometer of the state of the art in information technology, CeBit is the world's largest and most international computer expo. In 2000, CeBit drew 850,000 visitors at the apex of the "dot-com boom." CeBIT is a German language acronym for "Centrum für Büroautomation, Informationstechnologie und Telekommunikation," which translates to "Center for Office Automation, Information Technology and Telecommunication." It was first established in 1970 with the opening of the Hanover fairground's new Hall 1, which at the time was the largest exhibition hall in the world. While expo attendance had shrunk to around only 200,000, it rebounded to 334,000 by 2010. The 2008 expo was wrecked by the police raids of 51 exhibitors for patent infringement. In 2009, the state of California became official Partner State of Germany's IT and telecommunications industry association, BITKOM and of CeBIT 2009, focusing on environmentally-friendly technologies.
2014: 100-year celebration at The Car Wash Show 2014
Celebrating 100 years of professional car washing was the International Carwash Association, a non-profit trade group representing the retail and supply segments of the professional car wash industry. Hosting a commemorative 100 Years of Car Washing Celebration at the House of Blues in Chicago on Mar. 31, the event was held in partnership with The Car Wash Show 2014, which took place Mar. 31-Apr. 2, 2014, at McCormick Place. In 1914, Frank McCormick and J.W. Hinkle opened their "Automobile Laundry" in Detroit and were considered the first production line car wash in the world. Prior to this, car cleaning was mainly done by hand. The Car Wash Show, the largest car wash event in the world drew more than 5,600 industry professionals to Chicago to see the most current products and services available in over 117,000 square feet of exhibit space. Over two dozen educational sessions including a keynote session with Daymond John and Robert Herjavec from the ABC hit TV series "Shark Tank."