The International Association of Professional Congress Organizers awarded Gothenburg, Sweden, the IAPCO Driving Excellence Award during their annual Members' Day on Nov. 19.   The award, nominated by IAPCO member Kenes Group, recognizes a supplier who has gone above and beyond in their service, commitment and delivery of a successful meeting.
The nomination highlighted more than just a supplier / client relationship, but a partnership built on strong foundations and spanning many years working together delivering high-quality meetings.
 
Ori Lahav, IAPCO president, says, "It became apparent when we started working with Gothenburg's team, that there was a superb collaboration between the different suppliers. In very few destinations do you feel as if you are talking to one cohesive meeting's organism, that is working together with you towards delivering the perfect event. It is a place where the local team consider how to make your event greener and the best way to impact the local community through a well-thought-out legacy project.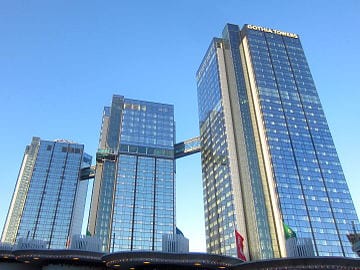 "IAPCO stands for high quality and we believe, wholeheartedly, that Gothenburg – the CVB, the venue [Gothia Towers, (pictured right)], and everyone else serving the industry there deserves to receive IAPCO's recognition in order to further spread this positive example.'
Annika Hallman, director of the Gothenburg Convention Bureau at Göteborg & Co, says, "This is an award dedicated to the whole destination showing the importance of collaboration between the suppliers in the meetings industry. Meetings involve the exchange of knowledge which develops and drives research, business and society forward. We want Gothenburg to continue to be a sustainable and innovative destination speaking with one voice."
The International Association of Professional Congress Organizers has more than 52 years of history representing today 137 companies comprised of more than 9700 professional congress organizers, meeting planners and managers of international and national congresses, conventions and special events from 39 countries. For more info, visit www.iapco.org or email info@iapco.org