On Feb. 24, a $125 million plan to expand and modernize the 1.7 million square-foot Greater Columbus Convention Center in Columbus, Ohio, was approved by the Downtown Commission.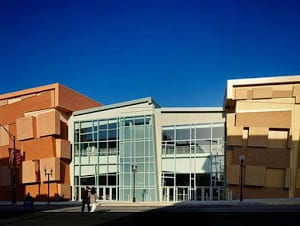 The project, under the direction of the Franklin County Convention Facilities Authority, aims to improve the facility's competitiveness.
"It's old and it's tired," said Bob Loversidge, principal, Schooley Caldwell. "We have an opportunity to bring it into the 21st century and expand it."
In the works is construction of a 36,000 square-foot exhibition hall off Goodale Street and 10,000 square feet of meeting space split among two levels. A skywalk to connect the convention center with an 800-space parking garage on Goodale Street will also be added.
Designers at Schooley Caldwell Associates of Columbus and Seattle-based LMN Architects will bring the facility's entrance closer to High and Goodale streets with a two-level glass cube, providing 5,000 square feet of pre-function space for conventions and meetings.
"It'll connect the convention center to the street in a better fashion," said Don Brown, executive director, Franklin County Convention Facilities Authority.
According to LMN Designer Brian Tennyson, the expansion would take up the convention center's last piece of land.
Greater plans to update the Greater Columbus Convention Center include renovating spaces from the original Ohio Center section of the complex through a $40 million section completed nearly 15 years ago. New ballrooms would have added ability to change colors per event, according to Schooley Caldwell Associates.
Altogether, interior renovations are estimated at $95 million of the total budget.
Construction is expected to begin in fall 2015 and to be completed July 2017.