Having just returned from EuroShop in Düsseldorf, Germany (held every three years), I will barely have time to get over the jetlag before playing host city for The EXHIBITOR Show and GlobalShop.
Eight days on the road went by really fast as I was part of a small contingent from the U.S.  Interacted with fellow industry veterans (and some fresh faces) in the IFES, EDPA and FAMAB (the organization representing builders in Germany) exhibits that together made up an 'Association Triangle' in Hall 9 at the fairgrounds.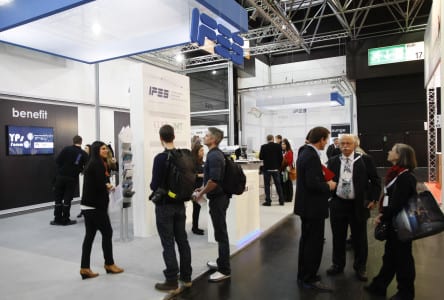 The catering staff at the IFES booth served visitors with an ongoing selection of snack items, including imported ham, cheese and sweets washed down by espresso, tea and an assortment of juices. On Tuesday afternoon, the IFES booth held a networking event called 'Meet the Greeks.' A small international mob descended upon the assortment of olives, cheeses, pistachios and an overabundance of ouzo, a Greek clear liquor with an aroma similar to toothpaste, as traditional Greek music created an authentic atmosphere.
Other events held by some of our industry associations included a pub-crawl dinner hosted by EDPA on Monday night for over 100 people. Even though there was food for everyone, it was a carnivore's delight as the evening showcased Old World German sausages and various cuts of pork with sauerkraut and potatoes (washed down with a wave of beer and shots of local liquors).
All three associations making up the Association Triangle hosted a cocktail reception together on Tuesday night after the hall closed at 6 p.m.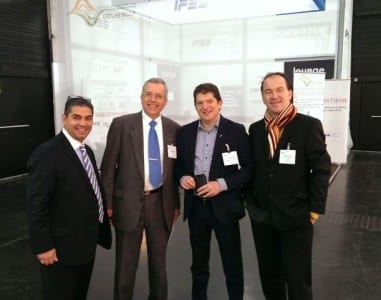 The overall show was a designer's delight with 17 separate exhibit halls comprising the overall event. Although only one full hall plus half of another two dealt directly with stand construction, design and events, the crossover opportunities for store fixtures and retail made for busy days in trying to take it all in.
With two of the biggest industry tradeshows just around the corner, this month's issue contains a preview of both EXHIBITOR and GlobalShop including floorplans and a list of exhibitors at EXHIBITOR2014 (see pages 44-59). Take advantage of your show badge this year with a new agreement between the events providing attendees access to both with a single badge.
Also in this issue, we discuss safety in lighting and other electrical components within the exhibit booth to stay safe. Looking forward, the role of augmented reality on the show floor is contemplated for its innovative uses, creating a plethora of possibilities to future exhibitors. As for innovation, it is one element that is needed for the exhibition industry to pull itself out of the recent economic downturn through key partnerships and proper staff training.
Be sure to stop by and see us at booth number 777 during EXHIBITOR2014 at Mandalay Bay in Las Vegas, Mar. 17-19.
Don't forget our huge networking party at Light (formerly Rum Jungle) inside Mandalay Bay on Tuesday, Mar. 18. Go to www.exhibitorparty.com for details on our group of sponsors and how to reserve a ticket!