Shop to Showfloor
by Emily Olson
Photography by Gary Prochorchik, Exposures Ltd.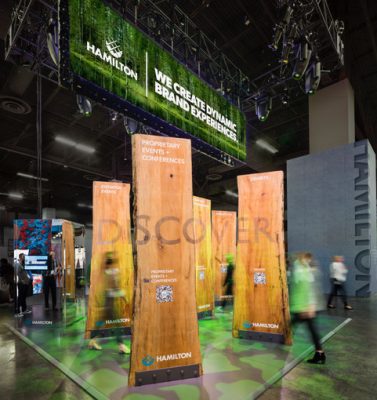 Hamilton, an Indianapolis-based, full-service event marketing agency that's been in the business for 74 years, creates immersive brand experiences for companies by designing, producing and executing integrative experiences with the aim of helping their clients create meaningful connections with their audience.
They put their expertise on display with their booth at the 2021 EXHIBITORLIVE—a booth so unusual and impressive that it won a place as one of Exhibit City News' Wow booths.
The thing that stood out immediately to tradeshow attendees was how different it was from what a typical tradeshow booth looks like. One attendee called it an "unbooth"—there were no tables, chairs, cabinets or counters. It made people think.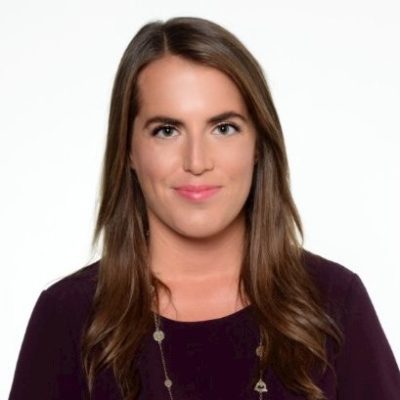 Courtney Cantor (pictured left), marketing director of Hamilton, says of the booth, "We wanted to create an immersive experience without relying on traditional exhibitry. We challenged ourselves to create a booth that was impactful, yet minimalistic, and showcased our broader event marketing capabilities. To be memorable, we knew we had to think bigger, deeper and simpler."
Hamilton's theme was "Discover New Perspectives," and every element of the booth challenged attendees to do just that. "The booth had to be experiential, not transactional—open and inviting, with multiple points of entry and opportunities for engagement," says Cantor. "It was also important that it could be self-driven. Each pillar included a QR code where the visitor could scan to learn more and answer trivia questions, using HUB LIVE, Hamilton's proprietary touchless engagement solution."
The booth provided a sensory and immersive experience for people who stopped by, providing an oasis to escape to from the show floor. "The space was engulfed in shifting lights, sounds and imagery. An overhead, double-sided, LED-tile hanging sign cycled through visuals from six distinct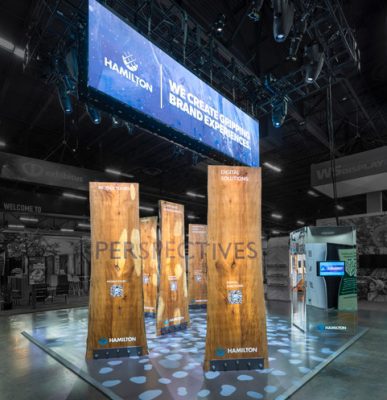 environments: snow, forest, sea, desert, waterfall and city. With each change of the environment, the atmosphere changed—from the sounds in the space to the textural lighting dancing on the floor and across each pillar.
The choice to use natural elements in the booth was a deliberate one. "We wanted to infuse organic elements into the space to juxtapose the high-tech features," says Cantor. "We used six 10-foot-tall sycamore wood planks each signifying one of our core offerings: Exhibits, Corporate Environments, Proprietary Events and Conferences, Outdoor Events, Mobile Tours, and Digital Solutions. We used mirrored panels on the closet to allow it to virtually disappear into the space."
Not only did the booth provide a respite for visitors from the fast-paced, often noisy showroom floor, it contained elements to surprise and delight attendees. "Words engraved into the wood planks, such as 'Discover' and 'Perspectives,' could only be read from a certain vantage point, which caused visitors to stop and adjust, then experience an 'aha' moment when they read the results."
That element of the booth turned out to be Cantor's favorite. "I really liked all the different Easter eggs throughout the space," she says. And attendees, partners and competitors provided feedback unlike anything Hamilton had experienced in the past.
One attendee called it the most unique exhibit at the show. Another said it was one of the coolest things they'd ever seen at any show. Still another said that Hamilton's exhibit raised the bar for the entire show. And speaking of setting a high bar, Cantor says, "Now we just have to figure out how to top it next year!"
By the Numbers/Credits:
Booth Footprint: 20' x 20'
How many people installed it and how long did it take them?: 2-day set
Booth Height: 10' planks and 20' to the top of the sign 
Lead Designer: Josh Frisbie, Creative Director – Hamilton
Builder: Hamilton
Production/Engineering: Hamilton
Exhibit Construction: Hamilton
Graphics Production: Hamilton
Photography: Exposures
Exhibit I&D: Hamilton Supervisor + Sho-Link
This story originally appeared in the Jan./Feb./Mar. 2022 issue of Exhibit City News, p. 48. For original layout, visit https://issuu.com/exhibitcitynews/docs/ecn_q1_2022