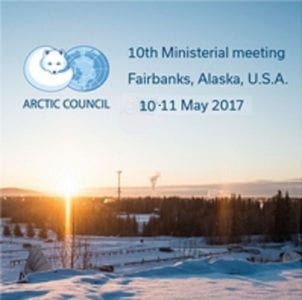 Summit to be Held on May 10 to 11 in Fairbanks, Alaska
Hargrove, Inc., the creator of compelling, world-class environments for events, experiential marketing activations, custom exhibits and trade shows has been awarded a contract by the United States Department of State to design and produce the upcoming Arctic Council Ministerial Meeting in Alaska this month.
The Arctic Council focuses on issues of sustainable development and environmental protection in the Arctic. The council holds Ministerial meetings every two years. As the current Council Chair, the event will be hosted in the United States.
Hargrove is responsible for the design, layout and production of each event. The scope of work includes designing and delivering all of the required elements that will allow the Ministers, delegations and working groups from the eight Arctic States (Canada, Denmark, Finland, Iceland, Norway, Russia, Sweden and the U.S.), along with the six international organizations representing Arctic indigenous peoples, to efficiently and successfully meet to address global issues.
The Ministerial Meeting will result in increased economic development for Alaska, specifically the Fairbanks region. Hargrove is partnering with a number of local vendors including Alaska Universal Productions, Advance Printing and Alaska Dreams, Inc.
"We are thrilled to be leading the creative efforts for the upcoming Arctic Council Meeting. Our entire team is proud to be helping to represent the United States during this important international event for two days and across three distinct venues," said Tim McGill, CEO of Hargrove. "While the logistics of working in interior Alaska are considerable, we are looking forward to the opportunity and excited to be building new relationships."
Hargrove is a global leader in brand storytelling, creating innovative experiential environments for events, exhibits, trade shows and marketing productions around the world. For more than 70 years, the Hargrove team has designed and delivered creative solutions for brands aiming to stand apart. For more information about Hargrove, visit www.Hargroveinc.com.