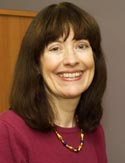 Hill & Partners, Inc., a full-service tradeshow exhibit design firm, has named Louanne James to the position of new business development executive.
In this role, James will play a key role in the expansion of the fast-growing firm's client base. She brings 23 years of sales and marketing experience within the tradeshow industry to her post.


James joins Hill & Partners, Inc. as the company's growth has resulted in the hiring of additional personnel, including several business development professionals and associate project managers.
Prior to joining Hill & Partners, Inc., James was employed by Blue Hive of Worcester, Mass. as a senior account executive, and before that post she was with Exhibitgroup/Giltspur, now GES, in Boston for 10 years, and with Sparks Exhibit in Philadelphia for three years.
During her time at Exhibitgroup/Giltspur, James was the recipient of the new business development award for generating more than $1 million in annual sales volume.
Originally from Green Bay, Wis., James earned a bachelor degree in art education from the University of Wisconsin Oshkosh.
In addition, she has taken graduate courses at Pennsylvania University, West Chester University and Bucks County Community College. Previous to entering the tradeshow exhibit industry James taught art education in both Wisconsin and Pennsylvania.
"We are very pleased to welcome Louanne to our Hill & Partners family," said Michael McMahon, president and CEO of Hill & Partners, Inc. "Her cross-country experiences are a good fit for the type of clients and growth rate that we envision for our future. We are certain she will be successful in reaching out to prospects, and introducing them to the new alternatives and solutions Hill & Partners provides; her comprehensive experience and commitment to excellence are sure to make her a vital member of our fine professional team."
"I couldn't be happier to have the opportunity to join the Hill & Partners team," said James. "I'm proud to say that I bring solid 3-D exhibit and point-of-purchase display advertising, sales and marketing, and audiovisual/sound presentation to my post, along with a keen desire to engage new clients and opportunities for Hill & Partners."